Ivey's MSc students had a chance to meet potential employers, gain advice from alumni, and learn how to navigate the changing employment landscape at the inaugural MSc Get Connected event this week.
Organized by Ivey Career Management, the event at the Toronto Board of Trade featured coffee chats, resumé reviews, networking sessions, and alumni panels discussing topics such as global opportunities, technology, and digital innovation. 
One of the critical issues Ivey's strategy focuses on is the evolution of work, and the event aligns with that by giving students insights into global career opportunities and workplace changes.
A platform for career-advancing skills and advice
Get Connected is just one of the many ways Ivey Career Management helps students to identify the challenges and opportunities they want to work on in their careers. Jennifer Baytor, Director of Career Management Coaching and Programming, said the event gives students a chance to engage with Ivey's alumni and recruiting partners to gain insights into the critical issues they are working on. It also allows them to explore new industries, practice their networking skills, and learn how to apply their degree to address challenges in the marketplace all while showcasing their talents to current and future recruiting partners.
"The event provides MSc students with a platform to learn from the Ivey alumni community and recruiting partners, fostering collaboration and innovation. This enables students to align their interests, values, and intended impact within their communities. We are confident that this valuable experience will play a significant role in the growth and success of the MSc program," said Baytor.
Baytor said the idea for MSc Get Connected came from Catherine Ireland, the MSc Career Management Program Manager. Noting the Get Connected event's long-running success in the MBA program, Ireland suggested it be extended to MSc students as an additional layer of support.
Inspiration from MSc alumni
Jason Chew, Director of Ivey's MSc Program Services, said the Get Connected event is a timely addition to the MSc program. Now in its 13th year, the Ivey MSc has built up a robust alumni base for students to tap into.
"This event lets students engage with alumni who share their educational experiences and were once in their shoes, looking out beyond their graduation to what comes next. I believe students will be inspired by our alumni's sheer diversity of experiences and their accomplishments," said Chew. "Just as importantly, I think they will value the alumni's insights into the early career journey and the guidance alumni can provide on how to make a strong start in the world of work."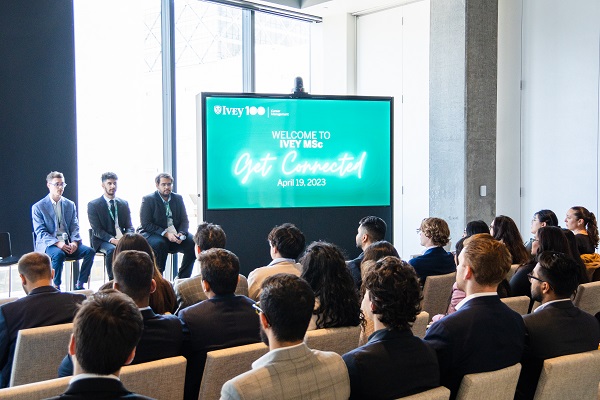 Insights from working professionals.
A chance to connect
For Ahmed Eldesouky, an MSc '23 (Business Analytics stream) candidate who attended, a highlight of the event was the chance to network with both working professionals in various industries and other MSc students who he has not yet had a chance to interact with.
"The MSc Get Connected event was truly amazing. This event definitely allowed me to understand many more opportunities I did not think I would be interested in," he said. "My favourite sessions were the networking panels to truly explore and talk to industry professionals, as well as, of course, the happy hour at the end, which allowed us to wind down after a long day. I left with a great network of people who will be able to support me when needed."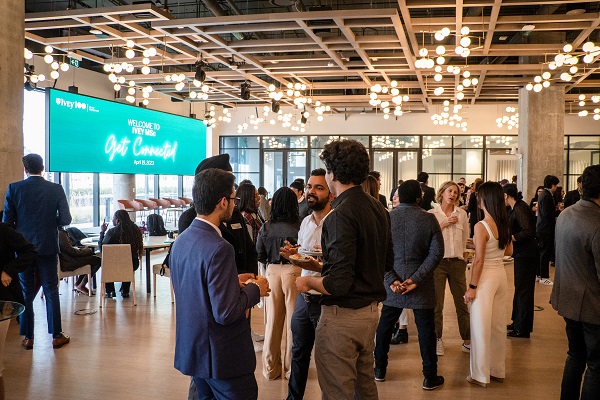 A chance to socialize.
Putting learning into action
Fellow MSc Business Analytics student Aymen Boujelben also cited the value of learning from industry professionals and gaining company-specific information and said it will help him with his future career search.
"The event has improved my confidence going into the full-time recruiting process having made connections with company representatives who understand the value of what we learn here at the MSc program," he said. "I'm looking forward to leveraging these connections and insights learned from the Get Connected event and applying them with greater intentionality to find a position that best fits me beyond my time at Ivey."
Kezia Joshua, an MSc '23 (Digital Management stream) candidate and Co-President of the Ivey MSc Association, said it was a valuable opportunity for students to build their personal career trajectories and expand their networks and she hopes the event will become an annual tradition in the program.  
It was not only a great way to build our professional skills, but a significant opportunity to be connected to one another. The students had a great time of food, socializing, and fun and we hope to continue this annual event in the coming years for the Ivey MSc students." 
–Kezia Joshua