Capture Students' Interest and Attract Quality Applicants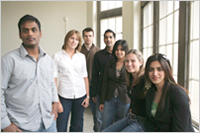 The Career Management team at Ivey is fully-integrated into student programming and planning. In fact, Tactical Career Management classes are part of the core curriculum for both MBAs and HBAs. We pride ourselves on knowing what is happening throughout the school and being a key source for student initiatives. We can assist you in organizing a gathering with students interested in your company and industry.
The following events are all great ways to get to know Ivey students, answer their questions about your company and begin building relationships as potential candidates, or future clients, suppliers, or vendors:


Career-Panel Discussion/Industry 101s - Often a partnership between Career Management and Student Clubs, these discussions showcase recruiting partners and/or Ivey alums. Topics can vary from an overview and tips on how to navigate the nuances of the recruiting landscape of a particular industry to inspiring speakers that follows their passions. 


Information Sessions - Corporate information sessions typically run 90 minutes, with timing split between formal presentations and an information networking session with students. 



Get Conn-X: Ivey's Virtual Get Connected Networking Event - 

Throughout this 3-day virtual event, students will experience first-hand the realities of networking in 2021.

In virtual mode, they will have increased access to engage with employers from diverse industries and geographic locations through information sessions, networking events and one-on-one coffee chats. With these activities, students will have the opportunity to hone the skills developed through their Career Management curriculum, start to build key relationships with alumni and recruiters, and further refine their post-MBA career strategy.

Call us to discuss the above events and other opportunities for you to talk exclusively about your company and your recruitment activities.