Customer Dynamics in the Digital World
Leverage data and technology to measure, understand, and improve your customer's experience. Find practical ways to apply cutting-edge insights across any organization.
Fall Session
$1,190 CAD
Module 1: To be announced
Online
2 hours
Live Virtual + Self-Paced Learning
Module 2: To be announced
Online
2 hours
Live Virtual + Self-Paced Learning
Module 3: To be announced
Online
2 hours
Live Virtual + Self-Paced Learning
Workshop Overview
Organizations' interactions with customers, suppliers, partners, and their communities have become increasingly complex – often spanning across a range of digital ecosystems.
Customer Dynamics in the Digital World is an interactive learning experience that gives you the tools to measure, understand, and influence your target customers in digitally-driven business environments. From collecting the right data to making strategic decisions, you will learn to put your customer at the heart of every product, service, and process.
Designed in partnership with the Ivey Behavioural Research Lab, one of the foremost centres for research in consumer behaviour, this online workshop connects you with leading Ivey faculty members and cutting-edge research in a rapidly evolving field. You'll gain insights on emerging technologies, investigate real-world examples of companies using data to optimize their customer experience, and share ideas with peers from other organizations. Return to work with new, practical ways to improve how your team, department, or organization functions digitally.
Who Will Benefit
Customer Dynamics in the Digital World will benefit leaders in every functional area of their organization. From operations to marketing to IT, digitally savvy leaders must understand how to collect and strategically leverage digital consumer insights. This knowledge is vital for senior executives and management teams, particularly individuals with strategic responsibility for digitalization, including Technology, Innovation, and Digital Officers.
These insights are also important for digital marketing and CX professionals, product managers, sales managers, brand managers, data analysts, ethics and compliance professionals, consultants, coaches, and entrepreneurs.
What You Learn
Understanding how technology enables engagement
Differentiate between traditional consumer behaviour and digital consumer behaviour.
Explore the role of digital culture, social influence, and other critical factors in shaping customer values and decision-making.
Investigate existing and emerging technologies that can help generate customer insights and map the applications of these technologies in your organization.
Using Data for Decision-Making
Interpret customer insights—from "big data" to the individual customer—improving your customer experience across every interaction point.
Assess the ethical, security, and privacy implications of collecting and using consumer data.
Understand the evolving dynamic between user- and firm-generated content across digital channels and how to leverage word-of-mouth communications.
Applying Consumer Insights
Drive more effective sales and marketing strategies by emphasizing the customer relationship in every area of your business, from HR to Operations.
Connect consumer research to strategy by measuring return on investment.
Ivey Advanced Impact Certificate
Customer Dynamics in the Digital World is eligible for your Digital Leader Certificate pathway. Click here to learn more and view additional program options.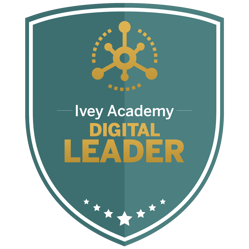 How You Learn
Customer Dynamics in the Digital World is an intensive workshop centred on hands-on participation and peer learning. You'll work with Ivey faculty and map out specific applications for your organization.
Learn more about the Ivey Experience
Return on Investment
Earn a credential from Ivey Business School. Your Customer Dynamics in the Digital World badge is linked to a unique URL, allowing you to showcase your advanced proficiency in online profiles.
Receive exclusive event invitations and curated collections of thought leadership and research from Ivey Business School.
Elevate your digitally-informed leadership with deep customer insights.
Develop immediate ways to use consumer insights technology for your team or department, applying your learning throughout the program to real-world challenges and opportunities.
Share new perspectives, frameworks, and research from Ivey with your team to build a greater sense of collaboration and cohesion.
Help your organization build the culture and capabilities to drive strategic growth through consumer research, data, and insights.
Fees
$1,190 CAD
The program fee covers all materials. Program fees are tax-exempt.
Applications must be submitted no later than 14 days before the start of the program.
FAQs
How are online programs delivered?
Online programs are delivered through a blend of live interactive virtual sessions with Ivey faculty facilitators and self-paced learning modules. Each module guides you through videos, cases, and exercises that help you prepare for and reflect on your learning. You'll then participate in a live online class to discuss and apply your new knowledge with peers and faculty. All components of virtual programs are required for participants.
What funding resources are available?
How should I prepare before attending the program?
Our Program Managers will contact all registered participants before the program start date with instructions to join our online Learning Management System. Once logged in, you can create a class profile, view other participants' profiles, and access a list of assigned preparation activities. Plan to review and complete preparation work in advance of each class session.