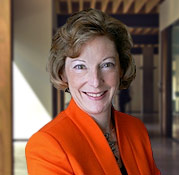 Education
MA (Canadian Literature), Queen's University
BA (Hons.), Carlton University
Profile
After more than a decade in the chemical industry, where she held senior leadership positions, Sarah Thorne co-founded Decision Partners (Decision • Partners Canada Inc.). Decision Partners is the world leader in advanced behavioural decision research, strategy and communications, and the creator of Mental Modeling InsightTM, an integrated suite of science-informed methods and tools for policy, strategy and communication design and implementation. For more than three decades, Sarah has been working with public at private organizations across a broad range of application areas, including those related to emergency preparedness, energy and infrastructure, public health, organizational transformation, stakeholder engagement, climate change, sustainability and resilience.
Throughout her career, Sarah has actively coached and mentored promising young business talent, sharing her insights and perspectives as a successful senior leader, executive and entrepreneur. During her tenure at Dow Chemical Canada Inc., Sarah was responsible for recruiting and coaching 84 student interns, and continues to provide ongoing mentoring to aspiring entrepreneurs. She served on the Ontario Centres of Excellence – Sector Advisory Board, Energy and Environment, from 2007 to 2015, contributing her perspectives on the social and behavioural aspects of proposed energy innovations benefitting Ontario and beyond, along with coaching and supporting entrepreneurial students and academics interested in applying their skills and technologies to address challenges in this sector. She continues to serve as an Advisor.
Sarah is a regular contributor to the scientific and management literature on decision making and behaviour-focused strategy and communications, and is co-author of the book Mental Modeling Approach: Risk Management Application Case Studies (Springer, 2017)
Sarah was appointed Executive in Residence at the Ivey Business School in 2018. She is based in Mississauga, Ontario.