Mateo Balmes, Jon Bertulli, Asma Haneef, and Nishant Sharma, all MBA '23 candidates, were among 100 MBA students from some of the world's top business schools attending the 2022 MBA World Summit in Milan, Italy. The event at POLIMI Graduate School of Management brought together students from 42 schools and representing 38 nationalities along with business leaders for high-impact exchange, best-practice-sharing, and reverse mentoring. There were also networking opportunities, cultural expeditions, guest speakers, and workshops. The summit culminated with a Social Impact Day where the students worked on current challenges for local social organizations. In their blog below, some of Ivey's summit delegates share what the experience meant to them.
When you bring together 100 highly-driven MBA students, business leaders, and academics to discuss how to tackle critical global issues, the opportunities are endless. Whether it was ways to increase business sustainability or combine purpose with profit, the summit inspired us to care about the bigger world beyond business. Below are details and reflections.
Mateo Balmes: Striving for a bigger impact
I joined the summit to find leads and future collaborators for a company I want to build, but I left with so much more. In addition to great networking opportunities, the summit reminded me that my impact extends beyond Ivey and Canada. I came away inspired to follow my passions and contribute to the causes I care about.
The opening panel of business leaders and academics incited this sentiment by encouraging the students to get involved in global issues as enablers of change. The main message was there is a conscious, equitable, and inclusive future in business. On Day Two, we participated in Summit Laboratory sessions, sharing information on topics we are passionate about. I spoke about mental models, which are established ways of thinking rooted from one's experiences, expertise, and history. We concluded our conversation by promising to work together to synthesize our knowledge for a bigger audience. Already we were considering how we could have a greater impact in the world!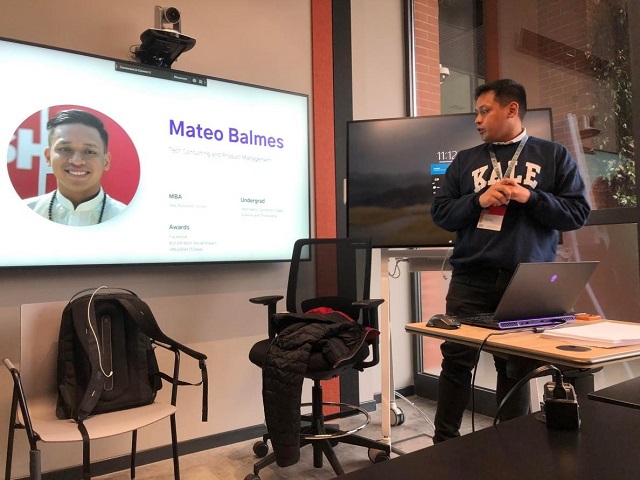 For the Social Impact Day, we created a sustainable business model for Cometa, a company working towards inclusion in the European educational system. From this experience, I learned that our skills from the MBA can bring all sorts of missions and visions to life, not just be applied to for-profit organizations.
And, of course, networking was a must-do activity and exposed me to different career paths, business school learning practices, and industry knowledge from students from all walks of life. I was proud to share details of my Ivey experience, including case-method learning; Equity, Diversity, and Inclusion initiatives; our aid to Ukrainian students; and the Graduate Student Innovation Scholars Program. I encourage future MBA students, Ivey or otherwise, to share and listen because every person you meet is a treasure trove of knowledge. Every conversation is valuable and potentially life-changing. And, who knows, you might be talking to your next co-founder.
The summit helped me to reflect on my strengths and what I wish to do with them. I also perceived the value of the Ivey MBA in a much greater light, seeing it not just as a bridge towards the career that I want, but as a catalyst towards the kind of person I want to be. I will give justice to this education by always developing myself and living up to my potential.
The world is full of opportunities to develop oneself and do good in the world. Sometimes they are discovered, oftentimes created."
– Mateo Balmes
Jon Bertulli: New perspectives on the future
I came away from the summit with great memories, incredible new connections, and confusion about my career path, which I consider a good thing! Each day, I experienced a revelation that left me with additional considerations for my future.
One came from a panel of business school deans who discussed the need for us to be the "we generation." This reinforced for me that we need to think critically in our classes and shift from considering the how and what to the why behind the models that we learn. This was a stark reminder that we all have the ability to be great, but need to break free from standard practices.
Advice from one keynote speaker, Anna Gionfriddo, CEO ManpowerGroup Italia, was also powerful. Speaking about talent-related challenges, Gionfriddo encouraged us to try everything even if we fail because we will learn from those experiences. This caused me to reflect on my current career plans, which  play it safe. Almost every summit delegate was able to draw on experiences from living, studying, or having friends in other countries, and I want to be able to do the same. I now realize that I've lacked a truly international experience and will consider that as I plan my career path.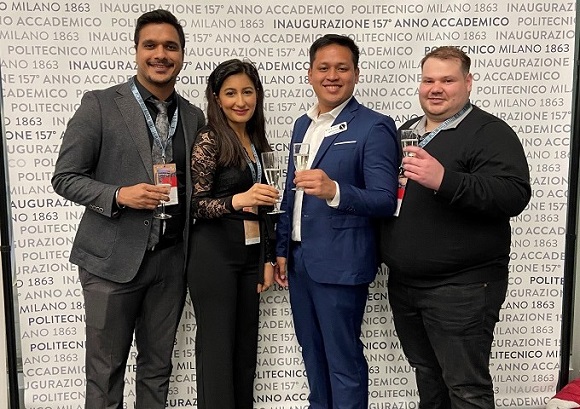 A lecture from Josip Kotlar, an associate professor from POLIMI, also inspired me to reflect on my future because he encouraged us to think about how to use profit for a purpose. His address got me excited about  finding a place in the world where I can contribute to shifting society for the betterment of all.
I left the summit with more than 60 new connections and a new outlook on my future."
– Jon Bertulli
Nishant Sharma: The power of collaboration
One of the most valuable opportunities was the chance to reflect on our experiences and learn from others. The wide range of perspectives from the diverse group was crucial for creating cross-border understanding and collaboration to reach our global business, political, and social goals. 
We discussed topics such as enabling technologies in emerging markets, rethinking social entrepreneurship, global security, leadership, and many more. I was genuinely touched by the discussions and learned how powerful a life story can be. The summit was special because we spoke about relevant and important topics such as empowering women in leadership, solving financial fragility, and re-evaluating the purpose of business – not just amongst ourselves, but with global CEOs.
We learned how much we can do together when we focus. A great example was when we worked with purpose-driven organizations for the Social Impact Day to design impactful solutions to challenges affecting their communities. Our team identified ways that Fondazione Bracco, an organization offering philanthropic fundraising services, could promote women's engagement in science and technology. It was amazing what we could accomplish in only a few hours.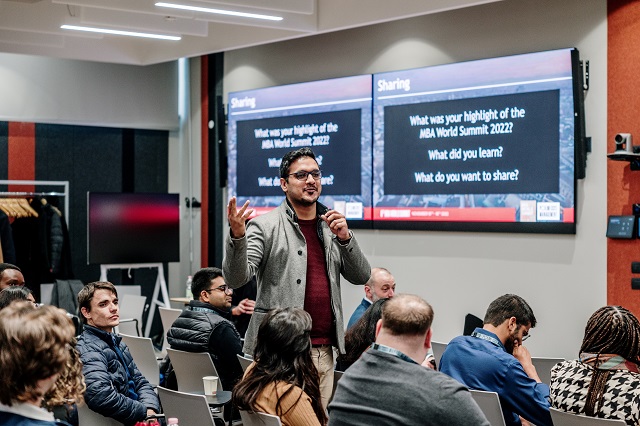 The core message of the conference – that future business leaders can come up with creative solution approaches to improve the world we live in – was particularly fitting. Business education has historically focused on how to make money, but we need to move beyond that. We should no longer condone personal profit over sustainability that supports society and the environment, even though many systems in place implicitly do that. As MBA students, we are privileged to be able to have a role in this. To paraphrase Spiderman, with great power comes great responsibility.
The summit opened my eyes to the opportunity I have as a future business leader to make a difference in the world."
– Nishant Sharma
Seize the opportunity
We encourage future Ivey students to attend the 2023 summit in Silicon Valley, and can only imagine the cool opportunities it will bring. The summit offers a chance to build an international network and opens your eyes to opportunities around the world. It will help to shape you as a future leader in ways you can't imagine.