News@Ivey
Professor's transformational journey to Africa earns case teaching award
Communications
|
Mar 11, 2014
Nicole Haggerty's journey through Africa has transformed students from Ivey and their African peers. Now that experience has also transformed the Ivey Associate Professor into the winner of the Case Centre 2014 Innovation in Case Teaching Competition.
The honour recognizes outstanding case writers and teachers from across the globe. It's essentially an Oscar for case teaching.
Haggerty's project enables Ivey HBA students to teach their peers in African business schools using the case method. The students teach a case-based course called An Introduction to Business Decision Making to business undergraduates at universities in Kenya, Rwanda, Ethiopia and Ghana. Before leaving to teach in Africa, the students complete an elective developed by Haggerty, in which they learn about case teaching and writing, find out more about African business culture and are evaluated as case teachers.
Over the two years, 43 students have taken part in the program and more than 800 African business school students have been part of the course.
"I am deeply grateful for the recognition of the program by The Case Centre and by a group of peers who have also dedicated themselves to the paradigm of case based education," said Haggerty. "But truly, the most meaningful reward I gain is that, through this effort, I have had the privilege of watching both Ivey and African students transform themselves, see themselves in a new light and to see opportunities unfold before them that they never thought were possible."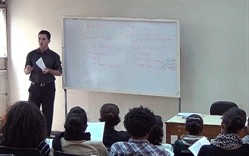 Travelling to Africa and connecting with African students has been a life-changing experience for students.
"They tell me about how their experience in Africa helped them to gain a deep appreciation for the quality of life and opportunities they have here in Canada," said Nicole.  "They develop a more personal sense of compassion and they tell me how becoming a case-teacher teaches those more about learning than anything they have ever experienced.  There's no way back from changes like this within these young people."
About The Case Centre:
The Case Centre Awards and Competitions (previously the ecch Case Awards) recognize outstanding case writers and teachers from across the globe. These prestigious accolades, presented annually, celebrate worldwide excellence in case writing and teaching and are now considered the case method community's annual 'Oscars'.