News@Ivey
Want to change the world? The key ingredient is people
Communications
|
Mar 6, 2015
Technology isn't the biggest game changer in the world.
You don't need innovation, or even a big idea, to make a difference.
All you need is leadership. And you can be that leader.
Social innovators from a variety of sectors shared their recipes for creating social change during a panel session called "Be the change you want to see in the world." The panel was part of the day-long 6th Social Innovation@Ivey forum on March 3, founded and hosted annually by Ivey Professor Oana Branzei.
Here are their ideas:
Be a copycatalyst
Josh Snider borrowed from an old adage: the second mouse gets the cheese.
"We're always encouraged to be the first ones out, but there are actually huge risks involved in that," said the manager of Youth Sustainability Leadership with The Natural Step Canada, a non-profit organization that advises organizations and individuals on how to be more sustainable. "Instead of striving to be catalysts, we should be striving to be copycatalysts. Find those great ideas that are already out there and need your help to grow."
Snider stressed that all it takes to make the world a better place is for people to believe they can make a difference. Even small initiatives have a cumulative effect. He gave examples of young people making a difference in their communities by building parks on underutilized properties or picking and distributing fruit from municipal properties so it won't go to waste.
"The real solution is leadership. Ultimately you're the solution. It's not technology. It's not innovation. It's people," he said. "When you look at all the complex social, economic, cultural, and environmental problems, it's not enough to say I'm going to do my part and then focus on me. The challenge is to look at leadership and to lead the change you want to see in the world."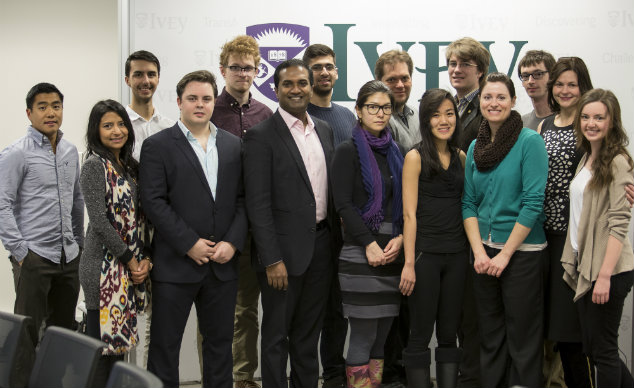 Photo: Professor Oana Branzei (far right) with the presenters and participants at a cross-sector leadership workshop. Presenters included Matthew Thomas, Connor Lyons, HBA '14, and Jaxson Khan of Prospect Madison.  
Focus on social shifts
Sarah Saska, CEO of Feminuity, a social enterprise that supports women and girls in innovation, and a partner with MATCH International Women's Fund, a fund that invests in women's organizations, has been researching gender bias in the corporate structure.
And while she has discovered corporations need to do things differently, she stressed people, not just processes, should change.
"We need new models and new ways of doing things, but we also need people on the inside of corporations to support the changes from within," she said. "We need to get away from technology as a panacea. Tackling the world's problems involves changing people's hearts and minds in ways that technology doesn't necessarily address. It's more about social shifts."
The Social Innovation@Ivey forum included several workshops on topics such as cross-sector leadership, master narratives in corporate sustainability, and being a sustainability champion.
It also included a presentation from Jerry Davis, co-author of the book Changing Your Company from the Inside Out: A Guide for Social Intrapreneurs, and several social innovators.
Lori Alexander, EMBA '14, Manager of Nutrition for PepsiCo's Quaker brand, discussed the challenges and opportunities for PepsiCo in reducing sodium, saturated fats, and sugar from its products.
"The biggest challenge is consumer perception. You have to make sure that when you're innovating in this more healthful realm that you're not losing your customers' trust," she said. 
The messages resonated with students.
Amy Zhou, an HBA1 student, said she hopes to work in the social entrepreneurship/sustainability field and the event gave her an insider's perspective.
"It was one of the most inspiring experiences I've had at Ivey so far because it was focused on what I want to do in the future. It was a good eye-opener for me as to what it's like," she said.
The Social Innovation@Ivey forum is organized by Ivey's Centre for Building Sustainable Value with support from RBC Foundation, Pillar Non-Profit Network, and The Natural Step. For more information, please visit http://www.iveysi.com/.