News@Ivey
Digital business, meet digital intelligence
Communications
|
Jun 16, 2017
From disruptive technologies and new regulations to the changing demands of customers, the financial services industry is under enormous pressure, says Dino Trevisani, President of IBM Canada. But there are substantial reasons for optimism.
Trevisani outlined his vision for the digital era at the Scotiabank Speaker Series in Digital Transformation in Banking in Toronto on June 1. The annual event is held by the Scotiabank Digital Banking Lab at the Ivey Business School.
Trevisani said the financial services industry faces big challenges:
The pressure and cost of compliance and new regulation;
The disruptive impact of technology;
The changing demands of new generations of consumers who want experiences and instant fulfillment from their banks; and,
The growing threat and impact of cyber security.
Banks face a number of other factors, such as legacy technology, and a drive to improve efficiency. They are being deluged with data that might help address these challenges, but have been unable to exploit value from the numbers.
In fact, of the hundreds of billions of transactions in the world each year across all industries, less than one per cent of the world's data is currently analyzed, Trevisani said. Data that may hold important answers to the challenges faced by the banks.
It may seem daunting to some, but Trevisani is hopeful.
"We stand at the dawn of a new era, in which digital business meets a new form of digital intelligence," said Trevisani. "This is what we call cognitive business – and its most well-known avatar is IBM's cognitive system: Watson."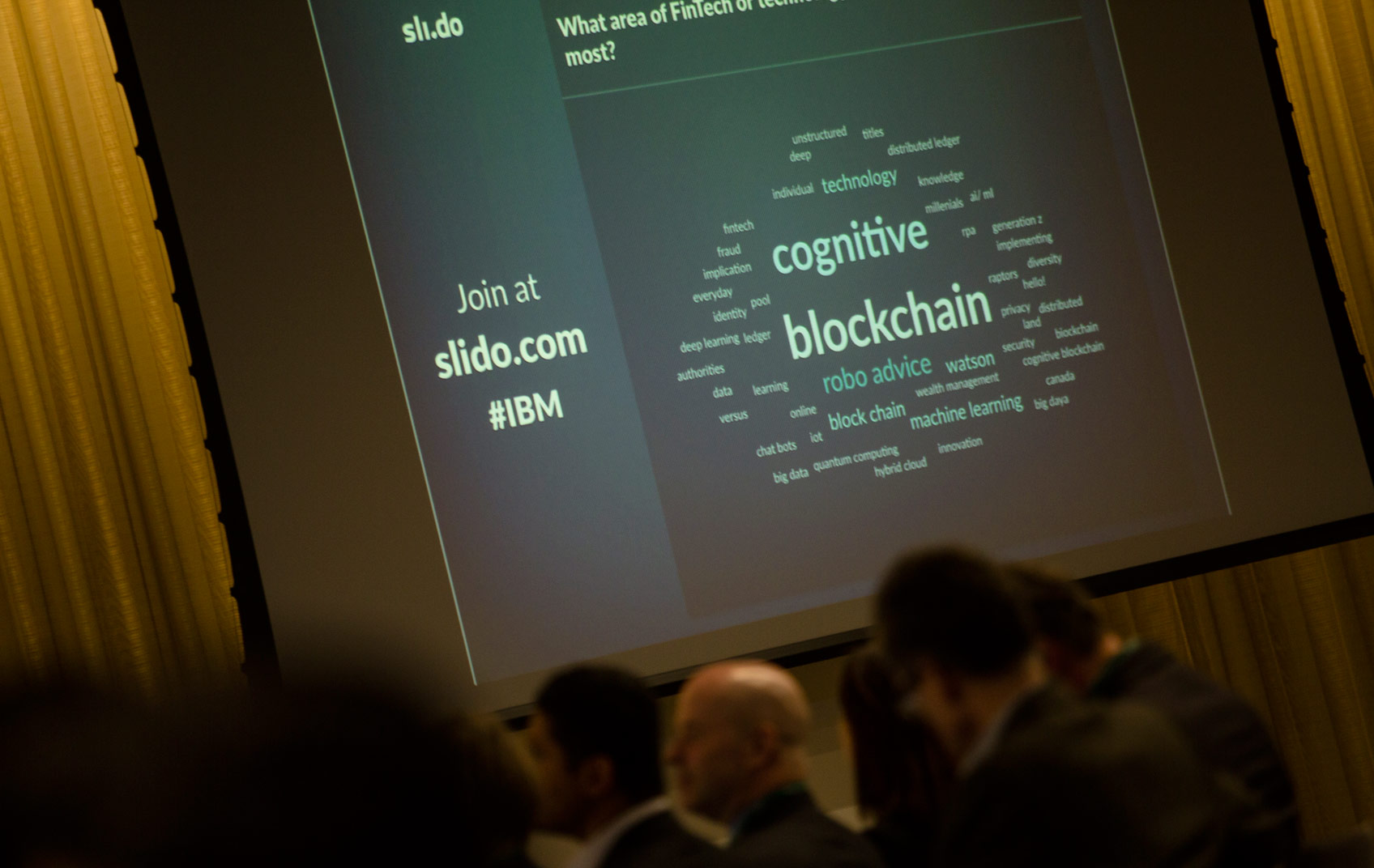 Trevisani outlined three reasons for optimism:
Digital foundations will become more powerful
Every company in every industry is building a digital foundation for their business. The most powerful applications will be data rich, analytically powered and cognitive. Moving business functions to the cloud, and big data security are also realities banks face. Digital platforms will also foster innovations, such as blockchain – an advance that will "change the way the world works," said Trevisani.
The future is cognitive
Competitive advantage will be earned by those who can extract insight from what is the key natural resource of our time: data. Cognitive systems can ingest this data, understand it and develop these insights. And most importantly, they never stop learning.
"Uncovering the deep value in your data will be the only way to differentiate – to be the disruptor, not disrupted," Trevisani said. "And no industry is riper for cognitive transformation than financial services."
Financial services will lead the way
Trevisani said this leadership is already being realized at financial institutions around the world, including Canada, where Watson is bringing cognitive skills to solve complex problems. In fact, Canadian banks have embraced digital transformation and have committed significant resources to furthering that lead.
"The evolving needs of customers are driving a push for innovation and an acceleration of the development of new technologies like never before," Trevisani said. "And banks finally have the technology to uncover the deep value in their data to meaningfully engage with customers in a highly personal way. This is the unprecedented opportunity that we have in front of us."