News@Ivey
Business Foundations lecturers recognized for undergraduate teaching
Communications
|
Mar 22, 2019
A good teacher can make a world of difference.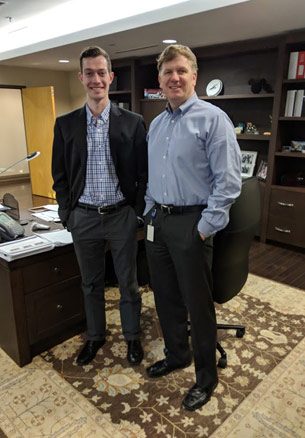 David Brooks (top) and Robert
Colquhoun
This year, three Business Foundations faculty members were named finalists for Western's Award of Excellence in Undergraduate Teaching: David Brooks, HBA '17; Robert Colquhoun, HBA '18; and Scott Loveland, MBA '17. 
Among an impressive group of 16 finalists, the three Ivey faculty members were selected from a pool of more than 1,100 nominations – a record-breaking number.
And to top it off, Loveland is one of this year's award winners: One of just four recipients across the entire university campus.
This is Loveland's first year teaching, making him only the second Business Foundations lecturer to win the award in their first year of teaching, following Raza Khan, HBA '16, in 2017. Loveland teaches Business 1299E: Business for Engineers, while Brooks and Colquhoun both teach Business 1220E.
"It's very humbling to have won," Loveland said. "But honestly, I owe my success to my students. It's because of their level of preparation, their engagement in the classroom, and their willingness to jump on the learning train of the case method with me."
It's not where you start – it's how you finish.
Before coming to Ivey for his MBA, Loveland studied biochemical engineering at Western. He took one of the Business Foundations courses in his fourth year, Business 2299, at that time taught by Dave House.
He was immediately hooked, and returning to campus to teach just made sense.
"I actually struggled academically in first and second year. My grades weren't the best. But I tell my students it's not where you start – it's how you finish," he said. "Students can always turn it around. I truly believe working hard and trying new things will eventually lead to success."
Part of what draws students in during Loveland's classes is his real-world experience and his vulnerability – that and his cheesy jokes, he said.
"At Business Foundations, we try to make our classes as enjoyable and relatable for the students as possible," Loveland said. "We give them that opportunity to see what a case class looks like. It's an incredibly engaging experience, and students get the chance to work on their communication skills. It's a very unique learning environment."
Since the award was established in 1995, nine Ivey faculty have won – five now from Business Foundations.
Western's Award of Excellence is co-presented by the USC and UWO Alumni Association. Each year, four award recipients are selected by the USC Teaching Excellence Awards Committee comprised of the USC VP, USC Recognition and Awards Coordinator, USC Council members, student-at-large members, and alumni members.