News@Ivey
Focus on the goal: Will Malisch, HBA '19, wins snowboarding race at university games
Communications
|
Mar 15, 2019
The skills learned in the Ivey classroom served HBA '19 candidate Will Malisch equally well on the mountain.
While on Team Canada at the FISU (Fédération Internationale du Sport Universitaire) 2019 Winter Universiade March 2-12 in Krasnoyarsk, Russia, Malisch won a gold medal in the Snowboard Cross men's race on March 3. He was the first Canadian to win gold in the snowboard disciplines at the international competition, which is the university student-athletes' version of the Winter Olympics.
Malisch credits the feat in part to focusing on the goal, a skill he developed at Ivey.
"You are put into so many situations at Ivey, like 48-hour reports, where you only have so much time so you just have to get it done. You can't let a thought like not doing well cross your mind – you just focus on finishing it. I brought that with me to the university games," he said.
The power of teamwork
The teamwork learned at Ivey also served him well, even though snowboard cross is an individual sport. Malisch and the other snowboarding team athletes worked together to strategize. They watched videos of other athletes riding to help them plan their course. Malisch said he appreciated the opportunity to learn from the other athletes, such as Audrey McManiman from Laval, Que., who won a bronze medal in snowboarding at the games.
"I think a lot of the athletes there were more full-time athletes than students and I was coming at it from a different background," he said. "I'm more of a full-time student than I am an athlete. I think that really helped me."
Malisch said he now hopes to bring back what he learned from the experience to Ivey.
"I am now a more mature athlete. I want to take what I've learned from Ivey and from this, bring it all back, and excel," he said.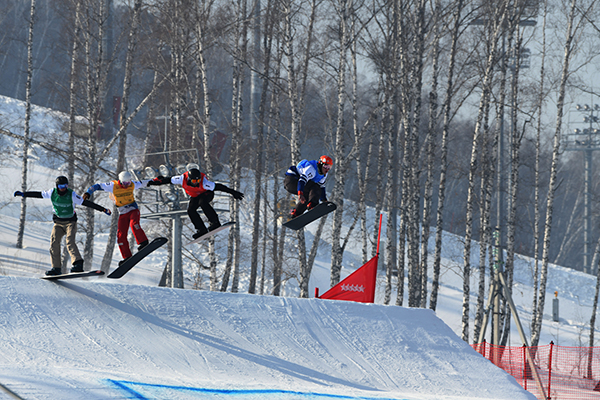 Will Malisch takes the lead.
Highlights from the 2019 Winter Universiade
Malisch said it was his biggest competition to date, with about 3,000 athletes from 58 countries and 5,000 volunteers and employees. Russian President Vladimir Putin gave a speech to open the games.
Winning the race has motivated him to keep competing. Malisch had competed in snowboard cross races since age 12, but stopped last year to focus on his studies. He'll next compete in the National Canadian Championship at Big White Ski Resort, B.C. at the end of March, and hopes to do another Nor-Am Cup (North American Cup) race.
"It was a hard decision to start competing again. We are at the point where we'll be graduating and a lot of people will be getting jobs, so this was a big move," he said. "It was worth it, though. I had forgotten how much I love the sport and how much I love to race."
Watch him go!
Watch the video footage from FISU of Malisch competing in the final heat.
More about Will Malisch, HBA '19 candidate and snowboard cross racer
Current activities: Completing the Ivey HBA and participating in sports. In addition to hitting the slopes whenever possible, he plays on six intramural sports teams, every day but Sunday.
Other interests: Sports, sports, and more sports. In addition to snowboarding, he's into skiing, soccer, hockey, skateboarding, wakeboarding, and water skiing. He's also a huge Toronto Maple Leafs fan and sported a Leafs jersey under his bib while competing at the university games.
Future goals: After graduating from Ivey in June, he'll continue to complete a sequential degree at Western University. He has two more years in Western's Computer Science program.
Career aspirations: Malisch hopes to work as a developer for a software company. He's currently working for a firm that buys bankrupt businesses and rebuilds them. He'll also consider an opportunity to combine his two passions: business and sports.
How he describes himself: Competitive. Malisch said he proved at a young age that he wasn't one to shy away from a challenge. His grandfather would help him to ski as a toddler and he'd yell, "Faster, faster." He started skiing at three and then learned to snowboard. He began competing in snowboard cross races at age 12 and won the provincial competition in his first season.
Other snowboarding accomplishments: In 2017, Malisch placed seventh in the International Ski Federation's (FIS) Nor-Am Cup (North American Cup) in Mont-Tremblant, Que., and in 2016 placed eighth in the FIS Junior World Championships in Slovenia. He also competed in the Junior World Championships in China in 2015 and in Czech Republic in 2017. The scores from those previous races qualified him for the university games.
Secret behind his success: Focus. Malisch developed the skill through sports and school and attributes it to his win.
I was the most focused I've ever been at a race. It was the first time that I didn't think about anything negative. The thought of losing never occurred. The only thing that crossed my mind was: I am going to win.