News@Ivey
Your summer 2019 business reading guide
Summer is not over yet and it's the perfect time to catch up on your reading.
For Part Two of our Ivey Best of Summer Reads series, we turned to Elizabeth Marshall, Director of the C.B. "Bud" Johnston Library, for suggestions. Watch for Part Three, featuring recommendations from Ivey's Dean's Office, later this summer.
Elizabeth Marshall's picks
For the entrepreneur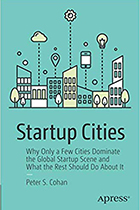 Startup Cities: Why Only a Few Cities Dominate the Global Startup Scene and What the Rest Should Do About It
Peter S. Cohan
Find it at the library: HD62.5.C6356 2018
Location, location, location is a popular real estate mantra, and perhaps the same holds true for startups. Author Peter Cohan, a Babson College lecturer of Strategy, explains the importance of location in relation to startup success. 
Marshall said the book offers a detailed comparison of some startup cities.
"This book examines the various criteria that make some locations more attractive to starting a new venture than others," she said. "It is rich with examples and case studies, making for an interactive read. I was caught up in several pages and I'm not an entrepreneur by any means."
Money matters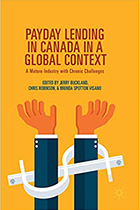 Payday Lending in Canada in a Global Context: A Mature Industry with Chronic Challenges
Edited by Jerry Buckland, Chris Robinson, and Brenda Spotton Visano
Find it at the library: HG3756.C3P39 2018
Payday loans are a popular way to borrow money for those who do not have access to conventional credit. But since their start, such loans have been accused of leaving borrowers in an endless cycle of debt. In this book, an interdisciplinary team of eight scholars examines the highly contentious payday lending industry in Canada, including how customers feel about their situation. The book is edited by Menno Simons College Professor Jerry Buckland, and York University professors Chris Robinson and Brenda Spotton Visano. Marshall said it offers valuable insights for everyone.
"Financial literacy is not just for business students. It is for everyone. It is so easy to get a credit card today and it is essential that everyone understand credit, interest, and how the payday loan system works. I found this book quite interesting and informative," she said.
Business rivalry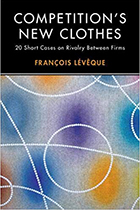 Competition's new clothes: 20 short cases on rivalry between firms
François Lévêque
Find it at the library: HD58.7.L476 2019
Competitive rivalry between businesses is nothing new, but it may be reaching a new level of intensity. François Lévêque, a professor of Economics at Mines ParisTech, recounts 20 real-world cases of rivalry between firms across diverse industries.
Marshall said the stories are informative and compelling.
"This is an easy book to read that covers 20 cases of everything from Coca-Cola, Lego, and shipping containers to breakfast cereal and wine. The essays are short, but provide a history of each industry," she said.