Whether it was cycling trails, waste-to-energy plants, or just time spent with family and friends, Ivey's Executive MBA participants learned how two European countries are each creating a culture of purpose during their recent Discovery Expedition trips.
The participants travelled to either Lisbon, Portugal or Copenhagen, Denmark, for a week-long crash course in international business.
"Through the Discovery Expedition, we provide the participants with new experiences and new perspectives on some of the issues that they thought they knew based on what we do in Canada. I think that's the real value added for the program," said Klaus Meyer, a professor of International Business. Meyer teaches the EMBA Global Strategy course and was the faculty lead for the Copenhagen trip.
Destinations expand
Although previous Discovery Expedition destinations have been China, India, Vietnam, or Brazil, this year, alternative locations were offered due to COVID-19 travel restrictions. EMBA participants chose Lisbon and Copenhagen out of four sites.
Meyer, who previously lived in Denmark for eight years, was thrilled Copenhagen was chosen. He said the participants learned a lot about its different approach to health care, the circular economy, and clean energy.
"Superficially, it seems that Canada and Denmark have a lot in common. However, once you look closer, there are important differences," he said. "In Denmark, you have private sector and public sector and civil society organizations talking to each other and forming working groups or associations where they come up with system-wide solutions … I think many of the participants were inspired by seeing it being done in a different way."
We spoke with two EMBA participants – Bonnie Wilson Davis, who went to Portugal; and Matt Morrish, who visited Denmark– about what the experience meant to them. Both said the chance to bond with classmates in person for seven days was particularly rewarding since the program initially began in virtual format. Here are their takeaways.   
History meets modern in Portugal
Bonnie Wilson Davis said she isn't used to walking down cobblestone roads before boarding the subway, but as Europe's oldest country, Portugal is known for its old-world charm. Touring castles and sightseeing in the outskirts of Lisbon were highlights of the experience, especially since one EMBA participant on the trip is of Portuguese descent and knew the language and the sites. He even organized a special outing for the group to see a fado (traditional Portuguese music) show followed by a traditional Portuguese dinner.
"Portugal is all about social dinners – just talking and really getting to understand and know each other more in-depth," said Wilson Davis. "It was a great opportunity to get to know your cohort members better and not under the time stress that we have in class."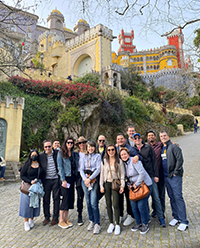 In addition to the historical culture, the group saw many forward-thinking innovations. One example was SKIZO, a company that collects plastic from the ocean and transforms it into a textile yarn for use in its brand of sneakers.
"I found it very refreshing to speak to these entrepreneurs because they were so dedicated and focused on making an impact as opposed to profit," she said. "In Canada, everything is so focused on regulations and compliance and whether that's all met. And, while it was an issue, in Portugal, they weren't as focused on that. They were focused on the long term, and being impactful and socially responsible. It fed into the whole culture."
Classroom lessons brought to life
Wilson Davis said the experience increased her confidence and reinforced how much she has learned through the EMBA program.
"One thing that jumped out for me was how well-prepared we were for these situations. When you're in the program, you're taking in so much that you're not even sure you're taking it in properly. But when I was pushed into this setting, I realized how much I've learned," she said.
Everybody brought something different to the table and it was great to learn from your cohort members in a real-life setting." – Bonnie Wilson Davis
Denmark is a beacon of urban sustainability
As an avid cyclist, Morrish said he was impressed with Denmark's cycling culture and infrastructure, which encourage people to cycle, instead of drive, around the city. To capture that spirit, his group cycled together one day, including two people who hadn't ridden a bike in more than 20 years.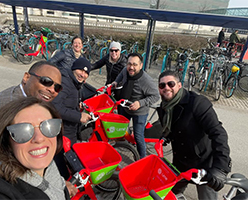 "Sharing that experience with fellow Ivey colleagues is something I'll remember for the rest of my life," said Morrish. "To see that many people riding bicycles and the impact that has on the community from the perspectives of health, energy-savings, and pollution was one of my best takeaways."
Copenhagen's focus on sustainability was also evident during a tour of the Amager Bakke (also known as CopenHill) plant, which uses cutting-edge technology to convert waste into electricity and energy to heat people's homes.
"By converting waste into energy, this private-public partnership has diverted nearly 600,000 tonnes of waste from landfills and used it to provide electricity and district heating to 170,000 homes. This is truly incredible and with CopenHill located in the center of Copenhagen, it has become a monument to sustainability and the circular economy," said Morrish.
It is all a result of a different approach to issues.
"The systems change Denmark has implemented has resulted in a nation that is more focused on public-private partnerships to achieve outcomes that benefit everyone," he said. "It was inspiring to see how a communal-based approach to research, development, and innovation and business can lead to societal changes."
Be the change
In terms of applying the learnings in Canada, Morrish said he gained inspiration from Copenhagen Business School Professor Mette Reebirk, who encouraged participants to have the courage to explore their curiosities as leaders to inspire and lead change at their organizations.  
Something that stuck with me was that you can't just hope that things will be different, you have to go out and be the change that you want to see in the world." – Matt Morrish
EMBA Discovery Expedition experiences
---
Bonnie Wilson Davis (centre) and friends
The EMBA cohort in Lisbon, Portugal