News@Ivey
New toolkit helps students and educators to thrive in the classroom
Communications
|
May 27, 2022
When mental health and learning expert Rick Ezekiel speaks with faculty members about challenges in the classroom, a common concern is how to help students navigate difficult moments.
"They'd say, 'I'm an aerospace engineer, not a mental health professional, so how can I support my students?' Faculty are trying to support their students, but they don't necessarily have the tools, the background, the knowledge, or the expertise to do so," said Ezekiel, former Director of Equitable Learning, Health and Wellness at Centennial College, and incoming Vice-Provost Student Affairs at Dalhousie University.
Ezekiel reached out to practitioners in his network who have expertise in promoting student well-being and resilience and asked them to share best practices, tools, and advice.
The end result is the recently launched Thriving in the Classroom digital toolkit developed by a diverse team of post-secondary faculty, mental health professionals, and learning experts from eight institutions across Ontario. The team includes Ivey's Nadine de Gannes, HBA '09, Associate Faculty Director of the HBA program, and Erin Huner, Director of Culture and Inclusion, who both worked with Ezekiel previously on an onboarding program that was piloted with HBA students.  
Innovative teaching and learning
Funded through eCampusOntario, the toolkit shares the latest research, skills, and resources to support four kinds of resilience: community, personal, academic, and career. It is available for free to everyone and in particular supports post-secondary educators in designing curriculum and teaching approaches that promote student resilience in the virtual or in-person classroom.
"The classroom is the one place where we can reach every student. This helps us to expand our reach and impact," said Ezekiel. 
Ivey's Culture and Inclusion team will officially roll out the toolkit via webinars this fall. The webinars will introduce Ivey faculty, staff, and students to the tools that might be most useful to them and show how they can be applied in specific circumstances, such as having difficult conversations or fostering a sense of belonging. Ivey community members interested in learning how to use the tools in advance, can contact the Culture and Inclusion team for support.
Building inclusive communities
Since the tools identify both problematic and supportive behaviours and help people to understand that resilience is contextual, Huner said they are key to building inclusive communities. 
"These are all evidence-informed tools and I think that's a really distinguishing feature. It's not a series of training where you check a box – these are curiosity-driven and inquiry-driven prompts that help you to learn and unlearn," she said. "Using the tools can help with conversations about race and racism, gender-based violence and gender discrimination, and the importance of understanding resiliency and mental health in our classrooms and educational spaces."
Citing recent studies in both Canada and the U.S. that report decreases in students' mental health and wellness, Huner said it's important to increase interventions and supports for students since mental health issues can impact students' academic determination and success.
"When we think about the post-secondary environment, we have emerging adults that go through a lot of really discreet phases of shifts of sense of self. They're dealing with these really big questions about what it means to be a human," she said. "Layer in the desire to have academic success, and decreased connection to peers because of the pandemic, and we're in a situation where students are really grappling for supports."
Encouraging connections
The Thriving in the Classroom initiative highlights that higher education plays a critical role in society, said de Gannes. She and Huner worked with Ezekiel on the community section of the toolkit. It looks at how to build a sense of belonging in the classroom and the community, particularly for individuals with marginalized identities, and aims to forge stronger connections between educators and students.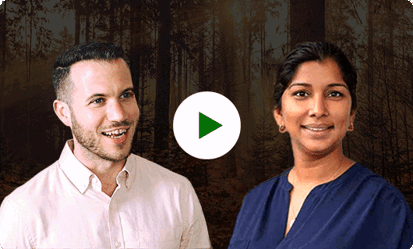 Watch the video on community resilience.
"With educators, there is a great desire, and an expectation on the part of our students, to have the care that we feel as humans be demonstrated in the classroom without a penalty for that," said de Gannes. "We don't need to lead these separate lives and be austere in the classroom."
Next steps with the project include gathering feedback on what tools are most relevant and useful for faculty so that the toolkit can be adapted and expanded, said Ezekiel, and looking at ways to increase accessibility to it.
There's a shattering of that professional logic that in the classroom there must be a closing off of our humanity and compassion – our care."
– Nadine de Gannes