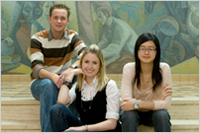 Recognized for excellence both in Canada and worldwide, Ivey is uniquely defined by its outstanding track record for developing leaders and accelerating career success.
Annually, we conduct a corporate recruiter survey to assist with planning for the coming year. In 2016, a total of 78 different companies completed the survey. An overall satisfaction rating of 98% on Client Service was achieved; meaning 98% of respondents gave a rating of 5, 6 or 7 out of 7 on this attribute.
An Extension of Your HR Team
Ivey Career Management is committed to working with your recruiting team to meet your specific hiring requirements. Our Client Relations Managers will take the time to ask thoughtful and consultative questions to assess your talent needs and understand your ideal candidate profile.
Our goal is to provide simple, tailored solutions that work for your organization through all stages of the recruiting cycle, and to provide the back-end support for seamless and efficient execution.
We offer these services at no cost:
Customized Resumé Books
Selective/Quiet Searches
Strategic Review
Get Started Now!