Customized Resumé Search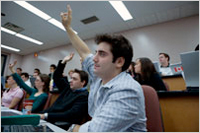 The Ivey resumé database is designed to help you identify students who fit your ideal candidate profile. The results of a resumé database search can help you target specific candidates and build your applicant pool.
You can customize your resumé search based on students' career interests, functional experience, language ability, geography-of-preference, work authorization, and more.
Results can be used for many initiatives including developing an invite list for on-campus initiatives, defining a short-list for an immediate hiring need, or beginning preliminary screening conversations with strong candidates for future opportunities.
We are currently transitioning to a new Career Management platform, if seeking student resumes, please contact your Corporate Recruiting Manager or email recruit@ivey.ca.
Please feel free to contact us with any questions and/or challenges and we will be sure to assist you.