Watch the full recorded broadcast above.
In the past decade, analytics has taken a prominent strategic role in how organizations seek to gain competitive advantage. Companies are constantly touting and inventing new analytical buzz-words: Business Intelligence, Big Data, AI, Neural Networks, Machine Learning, Deep Learning, Reinforcement Learning, Unsupervised Learning, etc. A common (mis)perception is that analytics is a magical data-crunching-wand that provides instant strategic insight and solutions to any problem. Yet studies suggest few companies actually experience tangible returns on their investment in analytics. What gives? How can analytics both be such a powerful tool of the modern business era when many companies are unable to reap its benefits?
On Thursday, August 6, 2020, The Ivey Academy hosted a complimentary livestream featuring analytics professors Fredrik Odegaard and Mehmet A. Begen. They provided a fundamental understanding of what analytics is, explained some related key concepts – such as big data, machine learning, and AI – and the ways analytics can improve decision-making. They then shared examples of organizations that have successfully used analytics to identify new business improvement opportunities, explained how to begin solving business problems using analytics, and discussed how to make decisions under uncertainty (such as the pandemic). Fredrik and Mehmet concluded the session by reviewing lessons learned from organizations that have successfully integrated analytics into their decision-making processes.
To learn how to integrate analytics into your own decision-making process – and to learn from Fredrik and Mehmet directly – be sure to check out our virtual executive education program Analytics Fundamentals for Managers.
Key webinar content
Core topics
What is analytics?
The rise of analytics
Examples and uses of analytics and how the use of analytics can provide organizations with a competitive advantage
How analytics can help during uncertain times – such as the current global pandemic
Challenges organizations face when employing analytics
Getting started with analytics
The data-technology arms race
Lessons learned from developing and using analytics
Correlation vs. causation
Defining ROI when evaluating analytics outcomes
Ethical analytics
Memorable quotes
"Analytics is the art and science of using data and models to obtain managerial insights for decision-making at strategic, tactical, and operational levels." – Mehmet A. Begen
"Do NOT invest in technology to get started with analytics. Make due with what you've got. Most companies have Microsoft Excel or Google Spreadsheets – start with that. If you don't have that, use your calculator. If you don't have a calculator, use an abacus. If you don't have an abacus, use your ten fingers. You don't need to invest in all sorts of technology to get started with analytics." – Fredrik Odegaard
Session materials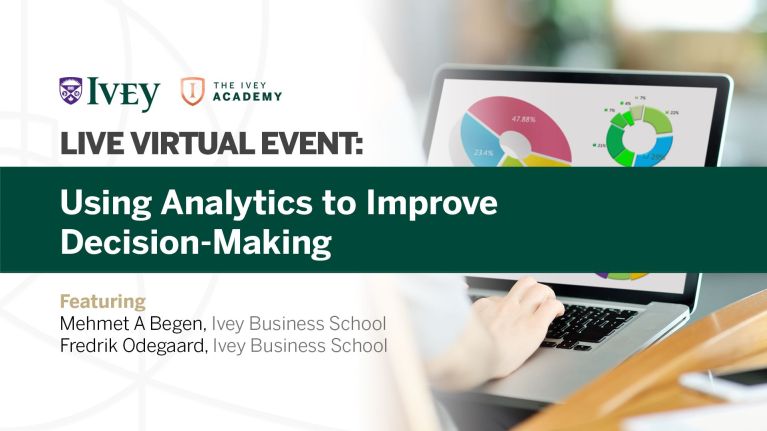 Click the above image to view slides, or download the slide deck presentation.
Additional reading
The three phases of business analytics, The Ivey Academy
Analytics Fundamentals for Managers, The Ivey Academy
When Data Creates Competitive Advantage, Harvard Business Review
The Houston Astros and the Ethical Use of Data and Analytics, Forbes
Follow The Ivey Academy on LinkedIn, Twitter, Facebook, and Instagram for future virtual event announcements.
About The Ivey Academy at Ivey Business School
The Ivey Academy at Ivey Business School is the home for executive Learning and Development (L&D) in Canada. It is Canada's only full-service L&D house, blending Financial Times top-ranked university-based executive education with talent assessment, instructional design and strategy, and behaviour change sustainment. 
Rooted in Ivey Business School's real-world leadership approach, The Ivey Academy is a place where professionals come to get better, to break old habits and establish new ones, to practice, to change, to obtain coaching and support, and to join a powerful peer network. Follow The Ivey Academy on LinkedIn, Twitter, Facebook, and Instagram.