News@Ivey
What is the future of digital advice?
Communications
|
Sep 19, 2018
Digital technology has the potential to improve financial advice as long as it's integrated in a way that showcases the best of what both humans and machines have to offer.
Experts across the financial services industry discussed how digital technology might disrupt the industry, as well as the opportunities for it to create efficiencies and heighten performance. It was all part of The Future of Digital Advice Conference in Toronto on September 14, presented by the Scotiabank Digital Banking Lab at Ivey Business School.
Ivey Lecturer Chuck Grace, associate director of the Scotiabank Digital Banking Lab and conference director, said he came away from the event optimistic about the future.
"The conference participants were a diverse group of thought leaders and they were strongly engaged and curious about the topic," he said. "It is clear there is a lot of work to do, and with a sense of urgency, but I think the future of advice in Canada is in good hands."

The event included spotlights on specific companies and an overview of recent Ivey Business School research on a framework for creating a hybrid approach. It also included panels on the industry, technology, and compliance perspectives. 
Views from industry – Amelia Young, Head of Digital Wealth Partnerships, Bank of Montreal:
Our industry has a tendency to overcomplicate saving and investing for users, but for digital adoption to take hold, we will need to dramatically reduce this complexity so people can digest key messages on a 2x5-inch screen. The need for simplicity extends beyond the user experience within individual bank apps and we need to consider where the digital advice experience fits in the overall complexity of users' lives.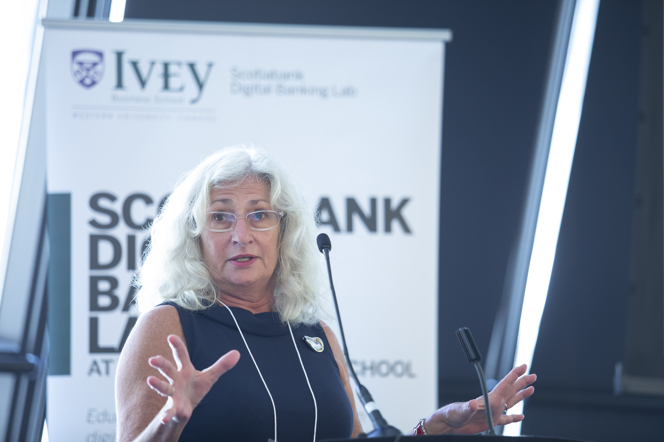 The role of compliance –Sandra Kegie, Executive Director of the Federation of Mutual Fund Dealers:
Financial services have spent millions of dollars within the last 10 years or so on systems that would allow the distributors to manage risk management and compliance more efficiently and effectively. Unfortunately, it will be a challenge for a great majority of distributors to now consider a large spend on technological innovation, regardless of the necessity for it. Product manufacturers and service providers may be able to assist with some creative options.
The event was sponsored by the Scotiabank Digital Banking Lab at Ivey.