News@Ivey
Big ideas: 2019 Ivey Business Plan Competition
Communications
|
Jan 31, 2019
Probiotic snacks and streamlined access to home painters were the winning ideas at the 2019 Ivey Business Plan Competition.
Student teams from Canada and the U.S. competed in either undergraduate or graduate editions of the competition, which ran January 25-26 at the Ivey Business School, and was hosted by the Pierre L. Morrissette Institute for Entrepreneurship. The competition offered the students an opportunity to pitch their business ideas to potential investors and, in turn, gave investors a look at up-and-coming entrepreneurs.
Here's a look at the winners from each edition.
Ivey HBA Business Plan Competition
BRITE bites – First place
Team BRITE bites from Michigan State University (MSU) won the first-place prize of $15,000 at the 3rd Ivey HBA Business Plan Competition. BRITE bites is an all-natural probiotic snack company headed by MSU student Bri Makaric. The company currently offers three flavours of bite-sized snacks packed with superfoods and a probiotic that contains one billion colony-forming units (CFUs) to support digestive and immune systems.
Pembroke Management Prize in Social Enterprise
Another team, Yad, from Babson College won the Pembroke Management Prize in Social Enterprise. Yad is a social enterprise that aims to empower people with intellectual disabilities by allowing them to express themselves through art and profit from their work, which Yad manufactures into unique home-decor products.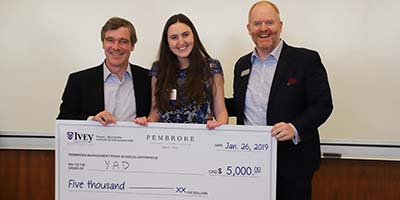 Yad Founder Deborah Cohen with Ian Aitken (left), HBA '87, and Ivey Associate Professor Larry Plummer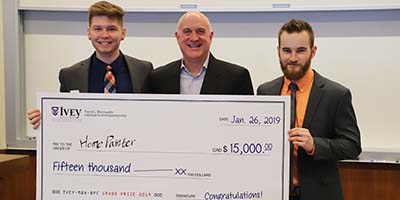 Anthony House (left) and Jacob McClarnon (right) of HomePainter with Ivey Professor Eric Morse
Ivey MBA Business Plan Competition
HomePainter – First place
Team HomePainter from Iowa State University (ISU) won the 21st edition of the Ivey MBA Business Plan Competition, securing $15,000 for their business idea – an online platform that enables people to get fast and accurate paint job estimates from the comfort of their homes. Homeowners book their jobs online with HomePainter, which then subcontracts the orders to vetted and registered painters in the area. With the aid of technology, HomePainter is hoping to reinvent the subcontracting model to become more scalable and profitable. The team includes ISU students Jacob McClarnon and Anthony House.
In total, 18 undergraduate and MBA teams competed for $40,000 in prizes. They came from these universities: Babson College, Iowa State University, Johns Hopkins University, McGill University, Michigan State University, University of Arkansas, University of Arkansas at Little Rock, University of Louisville, University of Oregon, and Western University.
The event included workshops by Albert Behr, CEO of Behr Technologies Inc., and Lucas Monzani, Assistant Professor of Organizational Behaviour. It also featured a fireside chat with Adam Noyek, HBA '10, formerly of MedReleaf Corp., a medical marijuana company.