News@Ivey
Ivey's new Accelerated MBA Program continues with week-long session
Cam Buchan
|
Jan 14, 2020
Update:
The Accelerated MBA for Business Graduates Class of 2021 - the first of its kind at Ivey - continued its historic journey with a week-long session at Spencer Leadership Centre as 44 students got to know each other in person. 
The cohort took part in some chilly opening exercises on Monday, followed by full-day case-study sessions for the rest of the week.
AMBA Program Director David Wood said the new class is off to a great start. 
"I am very excited by the energy and enthusiasm of our Accelerated MBA students," said Wood. "I am sure they will find Ivey's Case-Method to be challenging but very rewarding. The lessons and experiences they learn online and in the classroom will be of great value in their workplace."  
Watch for daily updates on Ivey's social media platforms.
Learn more about the AMBA Program, and how Ivey faculty have adapted their content to create an exceptional online experience. 
Assistant Professor Cara Maurer, of Ivey's General Management Strategy Group, has been teaching with the case method for more than 12 years. It is the approach she knows and loves.
Enter Ivey's new Accelerated MBA for Business Graduates, which begins in January 2020. It's a program with a unique twist. The Accelerated MBA combines Ivey's signature Case-Method Learning with online components, enabling students who already have an undergraduate business degree the opportunity to earn an MBA while they work. The program begins with a weeklong session in London, Ontario. After that, students attend classes three days per month at the Donald K. Johnson Centre in downtown Toronto. Between the monthly in-person sessions, students do up to 40 per cent of their work online.
Recruiting success
The while-you-work format and blended concept have been well received by students:
The inaugural class is made up of about 44 students, primarily from the Greater Toronto Area, representing 20 undergraduate universities and 15 industries; 
The average age is 28 with a range of 25 to 33; and,
The class is 33-per-cent female.
Blended format: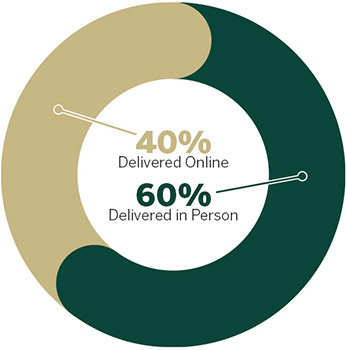 The goal of the blended format is to deliver the same transformational experience as the Ivey classroom. Maurer believes the blended approach will succeed.
"Key to the case method is the interaction between faculty and students, and between students. The blended learning approach allows us to do that," she said. "With blended learning, we are taking advantage of the platform and adding more engaging material in a medium that is easily accessible and gives students control over when and how they use it."
Professor Rob Austin, of Ivey's Information Systems area, sees the opportunities for more sophisticated discussions through the blended format.
"We will end up with a top-quality product that will build on what we do in the classroom," Austin said. "The improved experience comes from our creativity in what and how we move classroom material to the online stream and how that experience is integrated into the classroom."
Those who have worked through the learning design process have commented that the process has inspired teaching innovation, not only in the AMBA Program, but also in other in-person courses they teach.
Enhancing the classroom experience
As business graduates, students set their own pace on theoretical content, handled primarily online. Easily accessed metrics will show faculty just how prepared students are in advance of the classroom sessions. If students are struggling with a specific online exercise, faculty can adjust the in-class content to ensure all concepts are well understood and applied correctly.
This is where the blended format excels, said David Wood, Program Director of the Accelerated MBA Program.
"When we are teaching them a concept, we can tie it to an exercise, or examples that the students can work through individually or in small groups," Wood said. "The students can measure their own success, develop a higher degree of confidence, and even move forward at a quicker pace. This allows student to adjust their learning based on feedback from faculty, the exercises, and their small groups."
Then when students come to the classroom portion of the program, they already understand the theoretical concepts, tools, and models, making the discussion much richer and deeper.
"The students are better prepared, their confidence is higher, and they are more willing and eager to contribute to the discussion. Faculty will be able to dive into topics they would not have time for in the past," he said.
"It will truly be accelerated learning."
Accelerated MBA for Business Graduates calendar
November 2019
Students receive access to the online content two months before classes begin
January 2020
Program begins with a one-week residential session in London, Ontario
Each Month
Three consecutive days of in-class sessions, Friday to Sunday in downtown Toronto
Each Week
About 20 hours of online modules, case preparation, and other projects and assignments
December 2020
International study trip
Video: David Wood on AMBA learning