In today's ever-changing business landscape, the need for executive leadership development is more important than ever. A case in point – Ivey recently celebrated the 41 leaders who make up the Ivey Executive Program's Class of 2023, the largest cohort since 2001.
The Ivey Executive Program (IEP) is a three-month leadership development program from The Ivey Academy that prepares senior executives to navigate change through a mix of class discussions, real-life business cases, and one-on-one executive coaching. A key component of the program is the LEAP (Learning Embedded in Action and Practice) Project, which allows participants to work on an action plan for a specific challenge or opportunity in their organization.
Larry Plummer, an associate professor of Entrepreneurship and co-director of IEP, said a common theme for participants was how to lead through uncertainty.
"Last year was all about post-pandemic. This year, the watchword has been 'uncertainty'— particularly uncertainty around which aspects of the 'new normal' are going to remain permanent," he said.
Plummer said a highlight of the program was a tour of Porter Airlines, hosted by Captain and Chief Pilot Elizabeth Mitches, EMBA '22. It included a discussion of pilot communication and decision-making during the approach and landing phases, which Plummer said the executives found insightful. Other memorable activities included tours of Maple Leaf Sports & Entertainment (MLSE) and Scotiabank Arena, and a case competition where participants had a chance to apply what they've learned to a business challenge.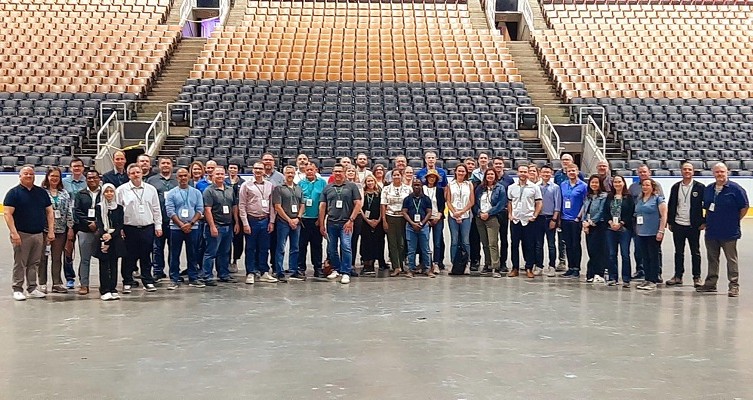 Ivey Executive Program participants at MLSE's Scotiabank Arena.
Learning that simulates real life
Jay Massie, Vice President of Northern Development & Indigenous Relations at ATCO Electric in Whitehorse, Yukon, was a 2023 IEP participant. He said he appreciated the program's focus on change management, particularly how it mimics what he sees in the corporate world today.
"We were moving at a pace and speed that mirrors our work environment. It'd be great to spend a week on strategy, but we don't have that amount of time. We have to move at pace and it seems like the new constant is that change," he said.
Karen Zelt, Vice President of Financial Services and Financial Transformation at ATCO Group, also cited how the program captured real-world experiences, especially through the case competition.
"It [the case competition] introduces the elements of prioritization and time constraints and stress – it's simulating the real world that we all work in and that's really helpful," she said.
For Ruth Talbot, Senior Director of the Greener Homes Division for Natural Resources Canada, the chance to work with a broad cross-section of leaders brought more opportunities to learn.
"The fact that we're all coming at it from different angles just adds to the richness of the program," she said. "It also makes you realize that we're all in this together. We have more in common than the differences between us."

The winning case competition team with alumni judges.
Back Row (left to right): Randy Steinsvik, Ryan Thiessen, Shawn Vording (IEP '19),  Kevin Moniz (IEP '19), Teri Thomas-Vanos (IEP '19); Front Row (left to right): Karen Zolt, Marc Schneider, Tammy Oommen, Mark Wilson, Melanie Vanstone.