Since our last equity, diversity, and inclusion (EDI) update, we have witnessed positive developments across the School. Passionate and dedicated faculty members integrated EDI-focused curriculum and discussions in the classroom. Tireless staff members incorporated EDI actions into their administrative duties. And students, faculty, staff, and partners together created new EDI programming and tools for the Ivey community.
A series of four PowerPoint (PPT) tools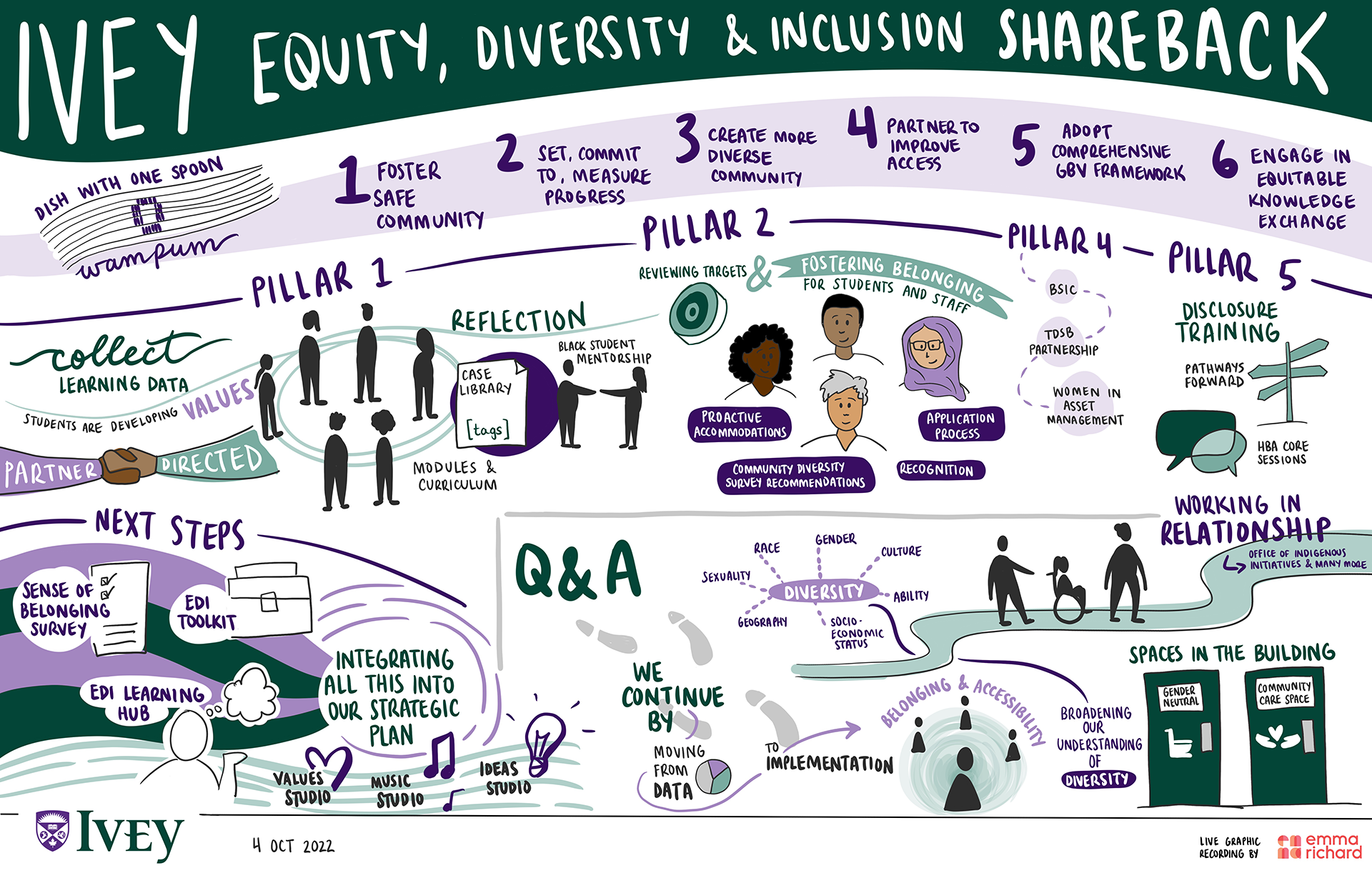 Partner Voices in Actions
University Pathways Project (UPP)
The University Pathways program is a collaborative initiative between three of Canada's leading Business Schools: Schulich, Smith and Ivey business schools. The goal of the program is to support Black student enrolment and attendance at Canadian post-secondary institutions. We have created an inaugural stream of the UPP program in collaboration with the Toronto District School Board, that is focused on preparing Black high school students in Toronto for academic and career pathways into university and a business education.  Throughout this program students learn about the various career and academic pathways available to them through mentorship; they have access to transitional support into post-secondary; and, they will have opportunities to engage in experiential learning throughout the summers on all three of our campuses. This program supports students' short and long-term goals, through educational and financial resources that are tailored to meet their needs.
Learning Through Action: Partnership with the Office of Indigenous Initiatives to implement The Path.
Ivey collaborated with the Office of Indigenous Initiatives to design the integration and implementation of this learning opportunity into the HBA curriculum, through a core HBA 1 course: Learning Through Action. This learning opportunity was designed to be reflective: students kept learning journals to track their own learning and unlearning as they engaged with the learning materials. Students were also given the opportunity to learn from Indigenous community members through learning circles, where Indigenous Elders and community leaders supported reflective learning of Ivey HBA students.
Ivey Publishing Case Tagging Project
Co-led by Dr. Hayden Woodley, Associate Professor of Organizational Behaviour, and Violetta Gallagher, Acquisition and Product Manager, Ivey Publishing has worked together with a group of student researchers to design an EDI related tagging system for the Ivey Publications Case Library. Over the summer of 2021 and 2022 six summer student researchers created a taxonomy of categories related to EDI within Ivey Publication Cases, which allows Ivey to better track the inclusion of EDI focused cases in our course content and case library. Users will also be able to search the Ivey Case Library using the EDI tagging system.
Ivey Community Equity Learning Modules
In an effort to create a core set of EDI related curricular and co-curricular learning opportunities for students, in the summer 2021 a team of students, faculty and staff, led by Nadine de Gannes and Erin Huner, created version 1.0 of the Ivey community learning modules. Students focused on writing sections of these modules where their identities and lived experiences align with the module areas of focus. The modules move through broad areas of research and practice related to the concepts of Equity, Diversity, and Inclusion. Learning modules that are currently offered are: Experiences of Gender; Experiences of Sexuality; Black Experiences and Asian Experiences. We are in the process of completing modules on different faith-based experiences as well as Indigenous Experiences. Over the course of 2021 and the beginning of 2022, approximately 800 students participated in the pilot of these learning modules. In the summer of 2022, Nadine and Erin, based on learning outcomes and assessment data, iterated the modules, and in the fall of 2022, the MBA, MSc. And HBA programs integrated these learning modules into their co-curricular programing, providing Ivey programs with a consistent set of EDI learning opportunities for students in our community.