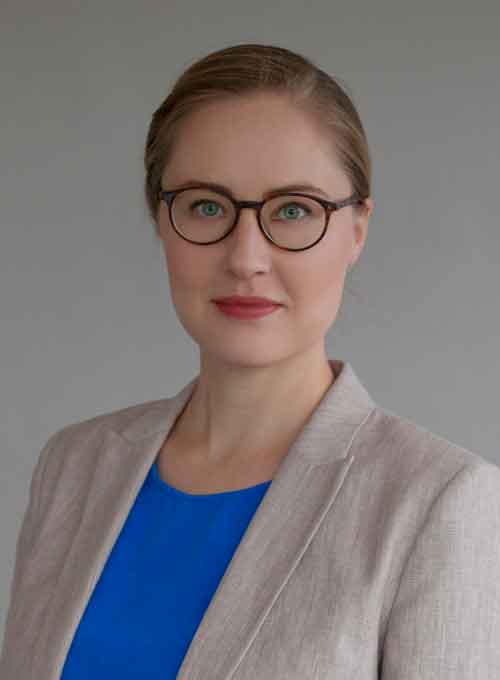 Expertise
International Business

Subsidiary management

Performance Feedback Theory

Rare events and other outliers

Emerging and frontier markets
To search for publications by a specific faculty member, select the database and then select the name from the Author drop down menu.
Vanessa Hasse is an Assistant Professor of International Business at the Ivey Business School. Her primary research interests focus on exploring behavioral explanations for firm-level responses to performance feedback in an international context, as well as the impact cultural and temporal dimensions have on managerial decision-making.    
Her research has been published in outlets such as the Academy of Management Journal, Global Strategy Journal, and more. She has received international recognition for her work, including the IM Division D'Amore-McKim School of Business, Northeastern University, Best Dissertation Award in International Management at the Academy of Management.
Dr. Hasse has authored several case studies and has been recognized as a management educator for her innovations in designing transformative learning experiences. She is the recipient of multiple Teaching Excellence Awards and was named a Finalist for the 2021 Academy of International Business Teaching Innovation Award. Dr. Hasse is a board member at the Academy of International Business-Canada chapter.
Hasse, V. C., 2017, "Responses to Subpar Performance in Foreign Subsidiaries", AIB Insights, August 17(3): 10 - 13.
Shin, D. J.; Hasse, V. C.; Schotter, A., 2017, "Multinational Enterprises within Cultural Space and Place: Integrating Cultural Distance and Tightness-Looseness", Academy of Management Journal, June 60(3): 904 - 921.
Honours & Awards
Winner of the 2022 MSc International Business Teaching Excellence Award, based on student nominations
Winner of the 2021 MSc Business Analytics Elective Course Teaching Excellence Award at the Ivey Business School, based on student nominations
Finalist for the 2021 Academy of International Business Teaching Innovation Award, Teaching and Education Special Interest Group, AIB Conference
Finalist for the 2018 International HRM Scholarly Research Award (with co-authors Shin, D. and Schotter, A.), Academy of Management; based on nominations
Best Reviewer Award 2018 (Academy of Management, IM Division)
Winner of the 2017 IM Division D'Amore-McKim School of Business, Northeastern University Best Dissertation Award in International Management, Academy of Management
Finalist for the 2017 Buckley and Casson AIB Dissertation Award, Academy of International Business
Best Reviewer Award 2017 (Academy of Management, IM Division)
Best Reviewer Award 2016 (Academy of Management, IM Division)
Outstanding Reviewer Award 2016 (Academy of Management, ODC Division)
Best Conference Reviewer Award 2016 (Academy of International Business)
Finalist for the 2015 International Management Division Best Paper Award in OB/HRM/OT (with co-authors Shin, D. and Schotter, A.), Academy of Management