Lawrence National Centre for Policy and Management
Carolyn Lawrence
Carolyn is a leader in Deloitte's Canadian Diversity & Inclusion Human Capital practice created to help organizations be more innovative, more profitable, and more engaging places to work.  This is accomplished by designing strategic diversity and inclusion design principles right into the way businesses operate and tied to business outcomes.  This goes beyond the status quo of D&I programs and tactics.  Carolyn is constantly sought out by clients for thought leadership on diversity, inclusive leadership and women's advancement for speaking to c-suite leaders on inclusive behaviours, diversity of thought and unconscious bias. 

Carolyn joined Women of Influence in 2005 as Event Director and has served as the President since 2007. Carolyn brings to her role senior corporate experience in Strategic Development, Marketing, Communications and nation-wide Event Management in the financial services industry; proving her proficiency in handling high value client relations and senior executive management. Prior to joining Women of Influence, Carolyn worked at TD Waterhouse managing AGM's, writing client facing presentations, marketing brochures and producing 25 Economic Outlook events for high value clients each year. This training combined with Carolyn's passion and determination to improve women's professional advancement, results in a powerful entrepreneurial force and a perfect pairing with this important and influential Canadian firm. 
Since 1994, Women of Influence has produced a nationwide Luncheon Series profiling the most accomplished women who share their success story to inspire and connect likeminded professionals. The program consists of 20 events, in 8 Canadian cities, inspiring over 7500 attendees each year. This flagship series is well established in the business community having profiled over 300 of the highest-powered and most recognized Canada including Amanda Lang; Senior Business Correspondent, CBC News Host, Sarah Richardson; Designer, Host, Entrepreneur, and Kim Campbell; former Prime Minister of Canada. Women of Influence programs are sponsored by leading organizations with objectives to reach influential and affluent women as employees and consumers including Deloitte, BMO Nesbitt Burns, Jones New York, RBC Royal Bank, Scotia Bank, Shoppers Drug Mart, TD Bank Group, Thomson Reuters and Chubb Insurance. Since 2004 the firm has proudly grown to include the Canadian Women Entrepreneur Awards, Young Women of Influence Evening Series, Senior Executive Dinner Series (North American initiative), Future Women of Influence fundraising Auction, Women of Influence Advancement Centre, Gender Intelligence Consulting and the Women of Influence Quarterly Magazine.  
Carolyn holds an Honors Bachelor of Arts, from the University of Western Ontario and a Certificate of Achievement from Queen's Finance Program. Outside of the office Carolyn holds volunteer based leadership roles with the AGO and Women's College Hospital and is on the Executive Committee of the International Women's Forum. She has completed Ironman USA and has competed in the Triathlon World Championships for Team Canada. 
Carolyn Lawrence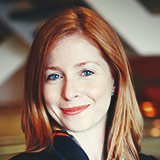 Partner, Gender Leader, Inclusion and Diversity, Human Capital Consulting, Deloitte Canada