Students learn about the global phenomenon of Smart Cities, developing ideas on smart solutions for the City of London as the COVID-19 pandemic unfolds.
Bringing a city from the present into the future is a complex, challenging problem with layers of issues, such as mobilizing multiple stakeholders, deploying emergent technology—such as 5G, Big Data, and analytics—and ensuring the well-being of citizens, the productivity of firms, and sustainable growth.
How can a city strengthen its economy, protect its environment, and deliver services more effectively for its citizens through novel ideas and sound policy? In other words, how can it become "smart"?
Challenged by the City of London to generate actionable ideas for smart solutions, Ivey's MBA Class of 2020 was split into 25 teams, and assigned an area of development critical to the smart development of this southwestern Ontario city of approximately 400,000 in what is known in academic circles as a capstone course.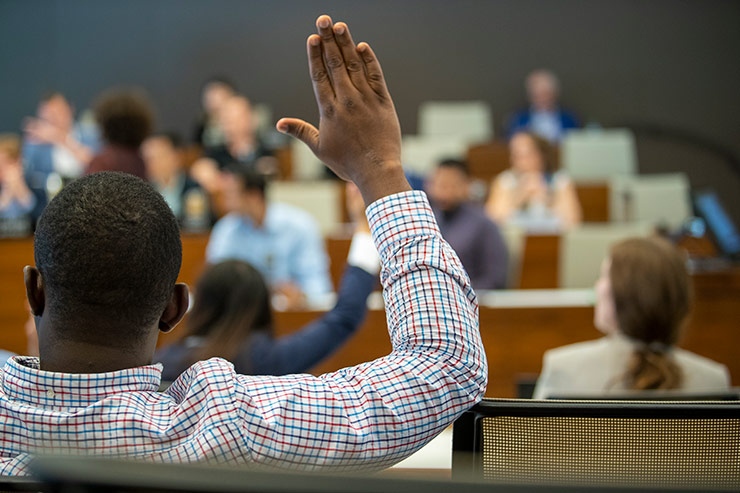 Developing smart solutions for a city, however, requires not only an appreciation of local needs, resources and constraints, but also a global perspective. Cities compete nationally and internationally to attract firms and talents, and the wellbeing of citizens and the productivity of firms are inextricably linked to the competitiveness of the cities and regions where they reside. On a more macro level, a country's competitiveness is reflected in the combined competitiveness of its cities and regions.
The Lawrence National Centre of Policy and Management, with a research mandate to advance competitiveness in Canada, took the initiative to redesign and deliver the capstone course, aptly dubbed GLOBE.
"The only way to predict the future is to create it."

—Abraham Lincoln
"The importance of developing smart programs becomes particularly salient in the context of COVID-19 pandemic. Cities must tackle the challenges associated with meeting mitigation goals, and health care needs, working and studying from home, ensuring critical supplies, and protecting the vulnerable," says Ivey's Assistant Professor Romel Mostafa, and the Director of the Lawrence National Centre. "Additionally, as we look to the future, we need to address age-old problems of urbanization. Smart city programs can stimulate local economies by drawing in much needed entrepreneurial initiatives through nimble policymaking."
Engagement with a difference
The capstone course connects Ivey's soon-to-be MBA graduates with the "big picture," and focuses on a current global challenge that is important from the perspective of both these future leaders, and the citizens and communities where they live. There are no textbooks or casebooks. It's a messy, unstructured, and difficult challenge for students to get their arms around.
However, guidelines were provided to tackle such an unstructured challenge through their own research and interaction with key local and international experts in the topic. Students waded into a plethora of articles and papers on the challenges of developing "smart" solutions, carried out needs analyses, and heard from experts. It was a veritable Who's Who of leaders from business and government at all levels:
Ray Tanguay, former President of Toyota, and former Chair and current member, Lawrence National Centre council;

Peter Wilcox, Director, IoT5, 5G and Smart City Solutions, Bell Mobility;

Kristina Verner, Vice President, Innovation, Sustainability & Prosperity for Waterfront Toronto;

Lynn Smurthwaite-Murphy, former CEO, StarTech

David Billson, CEO, rTraction;

John Fleming, former Managing Director of Planning, City of London;

Matt Ross, Manager, Artificial Intelligence, Information Technology Services, City of London;

Javed Khan, Global Manager, Rockwell Automation;

Paul Hubert, former Deputy Mayor, City of London, and Executive Director, Pathways;

Mahmood Nanji, former Director, Lawrence National Centre;

Robert Palter, Senior Partner, McKinsey & Company; and

Peter Fragiskatos, Honourable MP, London North Centre.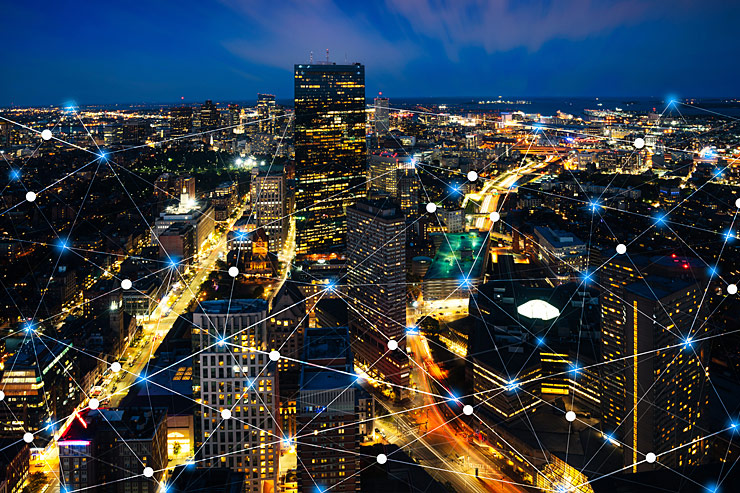 The challenges students faced in reaching their conclusions are typical of the complex issues facing smart city development. The solutions require the mobilization of multiple, often conflicting, stakeholders – from policy makers and administrators to technology solution providers, private and public organizations, and citizens.
Students ultimately developed a series of actionable ideas. Each team presented its video pitch, slide deck and report on an assigned focus area. The eight focus areas were Healthcare; Resources and Environment; Mobility and EV; Education and Skill Development; Housing; Financial Services; Crime and Emergency Responses; and Social Civic Engagement.
"The capstone project is not a typical case competition where ideas are "judged" and then shelved," said Mostafa. "The capstone project had real implications because the City was looking to create a roster of good, actionable ideas, and it is within this intellectual space that our students brought their skills learned throughout the MBA program and prior work experience to produce and develop meaningful contributions to the City's future."