Lawrence National Centre for Policy and Management
Thomas d'Aquino
Thomas d'Aquino is Chairman of Thomas d'Aquino Capital and Chairman and Chief Executive of Intercounsel Ltd., a private venture development and strategic consulting company which he founded in the 1970s.  He serves on the Board of Directors of Montreal headquartered CGI Group Inc. where he is the Lead Director, and on the Board of Directors of Calgary-based Coril Holdings Ltd.  He also is Chairman of the National Gallery of Canada Foundation.
Tom's business career spans over four decades.  From 1972 to 1975, he worked with an international management consulting firm in London and Paris.  He started his own business in 1976 winning strategic consulting mandates from a number of leading companies in Canada, the United States, Europe and Asia.  From 1981 to 2009, he served as Chief Executive and President of the Canadian Council of Chief Executives (CCCE), an organization composed of the chief executives of 150 of the country's leading enterprises and pre-eminent entrepreneurs.  Tom assumed leadership of the Council in its formative stages.  Upon his retirement from the CCCE as of December 31, 2009, member companies accounted for $850 billion in annual revenues, $4.5 trillion in assets, and were responsible for the majority of Canada's private sector exports, investment and training.  In recognition of "his exemplary leadership", he was named by the Canadian Council of Chief Executives Board of Directors, a Distinguished Lifetime Member.
Tom currently is Chair of the B20/G20 Canada Committee, and Co-Chair of the North American Forum, the continent's pre-eminent trilateral institution dedicated to advancing Canada, United States and Mexico cooperation in economic, trade, energy, environmental and security matters.  Earlier in his career, Tom served as Special Assistant to the Prime Minister of Canada and as Adjunct Professor of Law at the University of Ottawa lecturing on the law of international trade and global business transactions.  He also worked with two of Canada's leading law firms, as Special Counsel and Senior Counsel.  He is acknowledged as one of the private sector leaders in advancing the Canada-United States Free Trade Agreement and the North American Free Trade Agreement.
Tom was educated at the Universities of British Columbia, Queen's and London (University College and the London School of Economics).  He holds B.A., J.D. (LL.B.), and LL.M. degrees, and an Honorary Degree of Doctor of Laws from Queen's University and from Wilfrid Laurier University.  He is the author of numerous publications including the influential book Northern Edge: How Canadians Can Triumph in the Global Economy.  Tom has addressed audiences in forty countries and in over one hundred cities worldwide.
Thomas d'Aquino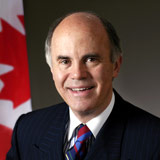 Chairman and Chief Executive, Intercounsel Ltd