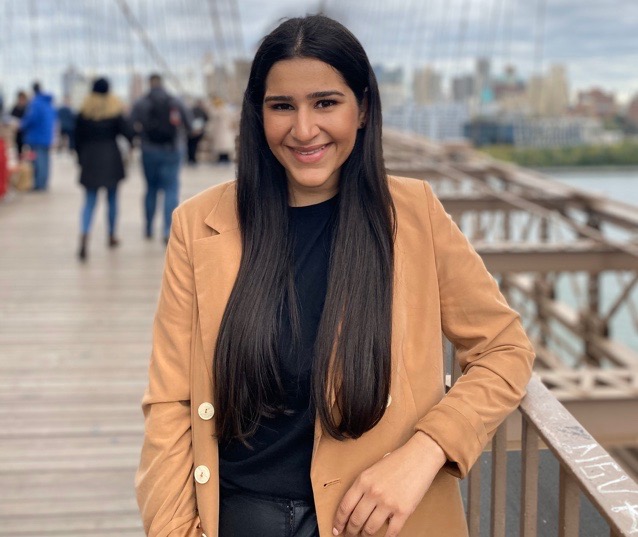 The Forefront of Energy Transition Lies in Aligning Stakeholders' Interests
Author: Ayesha Zaman, MBA'22
As the Ivey MBA program winds down, 168 students moved from being active participants in the classroom to leaders in communities. The focus of this year's capstone course was to implement smart infrastructure into Canadian cities, with a key goal of lowering emissions to fuel a low carbon economy. As a student who knew very little about energy transition in a business-related setting, the capstone project helped me to expand my understanding of how the environment, business, and communities intersect to contribute to a better, data driven, and more efficient, future. One of the speakers the students were lucky to engage with was Matthew Sachs, the COO of Peak Power. Peak Power is an energy storage services provider focused on delivering innovative solutions by focusing on the software solutions that forecast grid needs and optimize the operation of energy storage systems. This climate technology company is at the forefront of energy transition and hopes to build the net zero future of tomorrow with their customers and partners. Matthew discussed the various challenges and benefits of being a business that focuses on sustainability in our current economic structure. Throughout the conversation, there were three takeaways that really resonated with me:
1) Technology Should be Used to Elevate Decision Making
In today's day and age, the use of AI to predict behavior is extremely prevalent across various industries. Such technology is being used to monitor weather conditions, track athletes' performance, and even predict the next time a consumer makes a purchase. Using this analogy, Matthew explained that Peak Power's energy optimization software was their bread and butter. He stressed upon using AI modelling tools through the amalgamation of data to forecast peak events and times that would enable buildings, onsite batteries, and electric vehicle infrastructure to provide electric grid services to help achieve net zero goals and simultaneously reduce operating expenses for businesses. Hearing Matthew speak about how energy is consumed, priced, and re-distributed based on predictive modelling and data-based factors was eye opening to me as it has proven to significantly reduce GHG emissions and significantly financially impact businesses bottom lines.
2) Leveraging Real-Time Solutions to Garner Adoption
Having analyzed different firms and their business models throughout our 12-month program, it became evident that technology can be an important means to provide consumers real-time updates and solutions—various models from navigating traffic to food delivery leverage the power of having consumers at the center of all operations. Matthew touched upon using real-time data as an innovative solution in one of Peak Power's recent projects. He explained that the 401 West Mall Battery Storage Project, a commercial office building located in Etobicoke, has an energy storage system installed to lower electricity bills through participating in demand response programs, peak shaving, and Global Adjustment reduction. This meant that Peak Power was able to forecast peak demand and use those inferences to re-distribute energy at those allotted times. This allowed the team to save $460K in yearly energy costs and reduce 4.65 Tonnes of CO2 emissions. Seeing such incredible benefits from one project, Matthew pushed us to appreciate how the integration of services based on a real-time supply and demand model to an entire city can re-engineer and position the city to achieve better results.
3) Align all Stakeholders Interests through a Systematic Approach
It was also interesting to uncover some indirect yet affected stakeholders in the energy business through our conversation with Matthew. Curtis James, a fellow MBA student questioned the social equity in such an industry as it would require aligning utility firms' interests with energy distributive firms' interests. Matthew quickly uncovered that the underlying issue was rooted in legislative practice. He stressed that currently, utility firms are granted jurisdictions in which they receive a rate of return, indexed to their asset base. This meant that as populations increase, utility firms are incentivized to continue growing their infrastructure as they receive a return subject to their assets. Instead, Mathew argues that policy reform should involve utility firms receiving a return indexed to the reduction of their infrastructure. This may sound counterintuitive, but such a policy will encourage utility firms reduce their infrastructure and accommodate the entry of energy distributive firms. This in turn will keep prices for electricity low, leaving utilities, energy distributive firms and citizens happy. This conversation emphasized the need for analyzing the interests of and garnering buy-in from multiple stakeholders, from the government and consumers to developers, and utility firms, and drive change in the energy markets. It reinforced the importance of systems approach to smart infrastructure projects – a theme that resonated across our capstone sessions on transforming cities for the future. In the long run, Matthew believes the integrated platform that Peak Power is building will yield social equity in developing multi asset that will benefit all parties involved.
Matthew cultivated fluid and dynamic conversations around building infrastructure and solutions to foster a smart city. Through our session, it was clear that achieving alignment between stakeholders is the utmost challenge in developing smart solutions that scale and lead to equitable, efficient, and environmentally amenable outcomes for cities. A more sustainable future is feasible by striking multi-stakeholder coherence and finding adaptable data-driven solutions that incorporate real-time supply and demand factors.
The LNC is grateful to the Canada Life Research Fund for supporting this work.