Complex problems require elegant solutions, and Ivey's MBA '23s faced this challenge head on earlier this spring. Participating in the first MBA Capstone Project Competition, the top four groups from March's Capstone Course faced off at Toronto's Ontario Investment and Trade Centre in front of a panel of five senior directors from Infrastructure Ontario. The task: identify a major risk or challenge facing an Ontario municipality, craft a focused problem statement, propose an actionable, 'smart' solution and back it up by careful stakeholder considerations, meticulous financial projections, and a robust implementation plan.
This year's theme for the course and project, Building Resilient and Intelligent Cities and Communities, needed to be woven into each proposal. The top four teams chose to address four very different issues: affordable housing for seniors, GHG emissions reduction, waste management and food insecurity.
Organized by the Lawrence National Centre for Policy & Management, the competition provided an opportunity for students to concisely pitch a proposal while undergoing scrutiny from a judging panel of experts. Each team had 15 minutes to present their complete plan, which included a cost-benefit analysis, an assessment of risks and opportunities, and a comprehensive implementation plan. This was followed up by a 15-minute Q&A period where judges could scrutinize and narrow in on key components of each project.
The competition judging panel included five directors from Infrastructure Ontario: Omar Shabbir, Ankita Rao, Tom Aicklen, Stephen Lepone, and Aneesh Joshi. Joining the judges were LNC Director, Romel Mostafa, and Power Corporation of Canada Policy Fellow, Mahmood Nanji.
As the culminating component of the course, the Capstone project requires students to work in groups of six or seven and prepare a fulsome proposal aimed at addressing their identified urban challenge and providing a 'smart' solution. Brigitte McIntyre, who participated in the competition, pointed to the Capstone as an ideal way to finish the MBA program. "We were able to combine the skills we learned from our various courses to design an innovative solution to address one of Canada's greatest infrastructure challenges. We conducted research to understand the complex and diverse causes of these national issues and think creatively to design solutions that tackled them on a municipal level."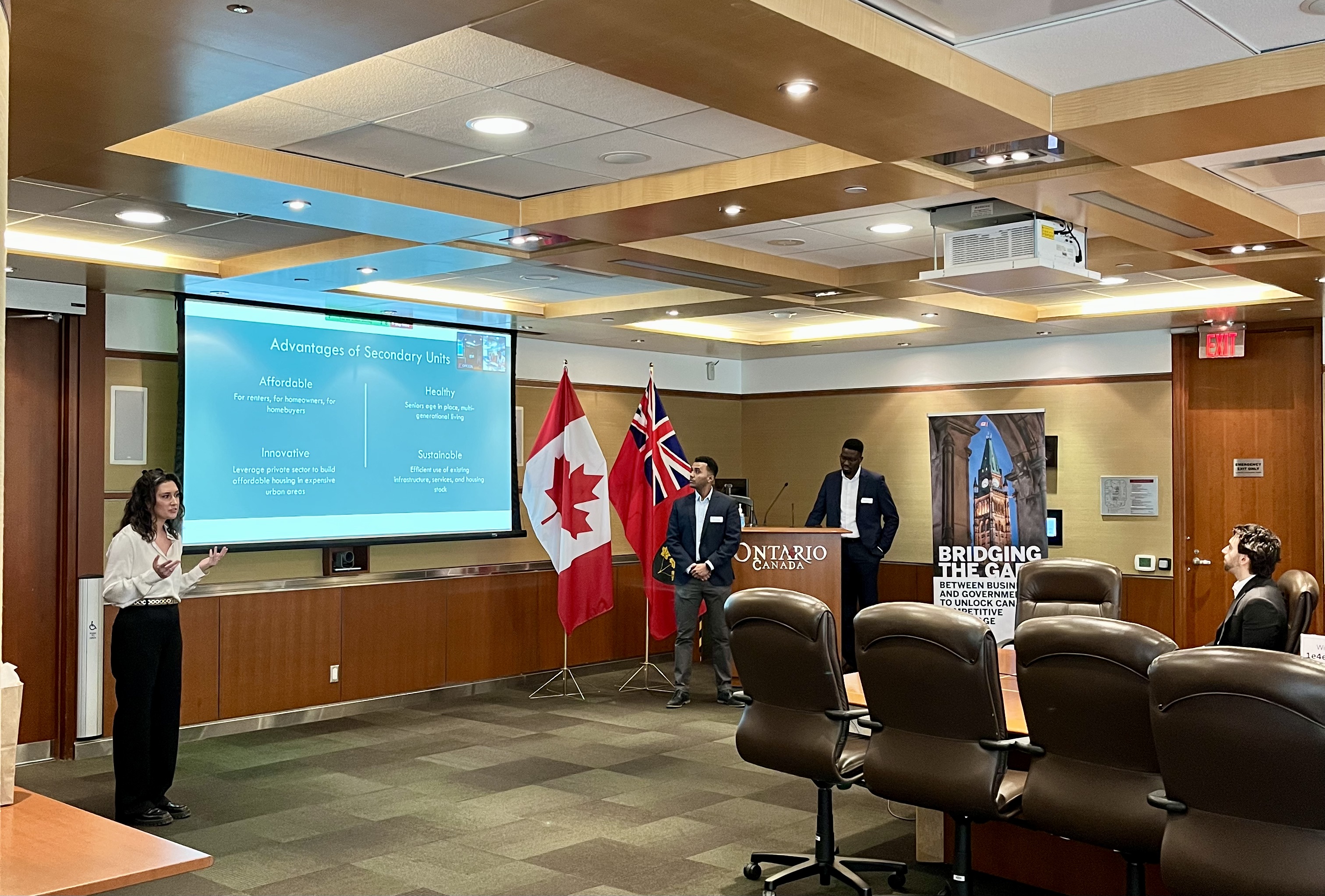 Above: (L-R) Students Brigitte McIntyre, Enku Emishaw and Oreoluwa Ajayi present to the judging panel.
Brigitte, along with group members Enku Emishaw and Oreoluwa Ajayi, were first to present their proposal to the judging panel. "My team's focus was creating an affordable housing solution for seniors in Hamilton, Ontario, to address Canada's aging population and the strain it has, and will continue to have, on infrastructure and services throughout the country. The opportunity to present our solution to Infrastructure Ontario judges allowed us to test our idea, receive expert feedback, and build valuable connections in the industry." 
Junaid Hussain, who also served as the 2022-2023 MBA Association President, participated in the competition alongside group members Roy Sun and Tauqeer Hassan. "Our team's project, [which] focused on improving waste management processes in Toronto, allowed us to re-imagine the city's approach to collecting, segmenting, and disposing of garbage in a way that created new revenue streams and minimized contribution to landfills." Reflecting on the Capstone experience more generally, Junaid noted, "the lectures we attended proved instrumental to the development of our project as they not only taught a conceptual/theoretical approach to solving such problems but gave advice on how to practically implement them. For example, launching a waste incineration plant using a public-private partnership, to minimize the cost to taxpayers while reducing project risk for corporations."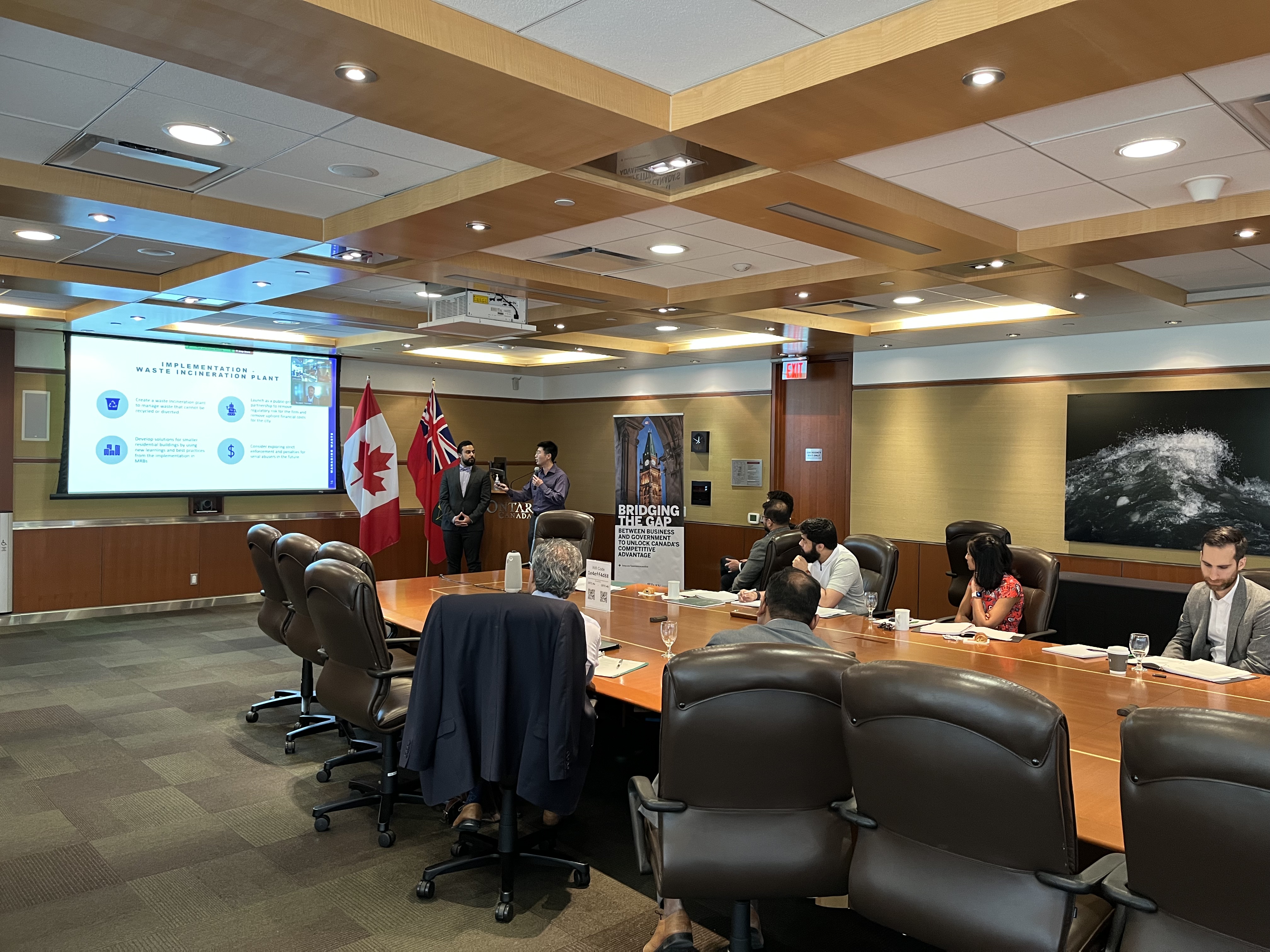 Above:  Junaid Hussain and Roy Sun (L-R) are joined by their teammate Tauqeer Hassan virtually on screen.
Another student, Jennifer Ye Won Kim, joined virtually from South Korea with her group members Tyler Clemens, Sujay Nair and Michael Rychlewski, who attended in person. "The Capstone project was an opportunity to put together all the learnings from the MBA experience." Jennifer's team presented their plan to tackle food insecurity in Northern Ontario by leveraging advancements in technology to produce smart ag-tech vertical farm solutions. "Learning about successful examples in other countries and connecting with potential partners helped us realize that this real issue can be addressed when the right people meet the right opportunity and resources. It was fun to work in a group for one last time and rewarding to present our idea to Infrastructure Ontario as a finalist."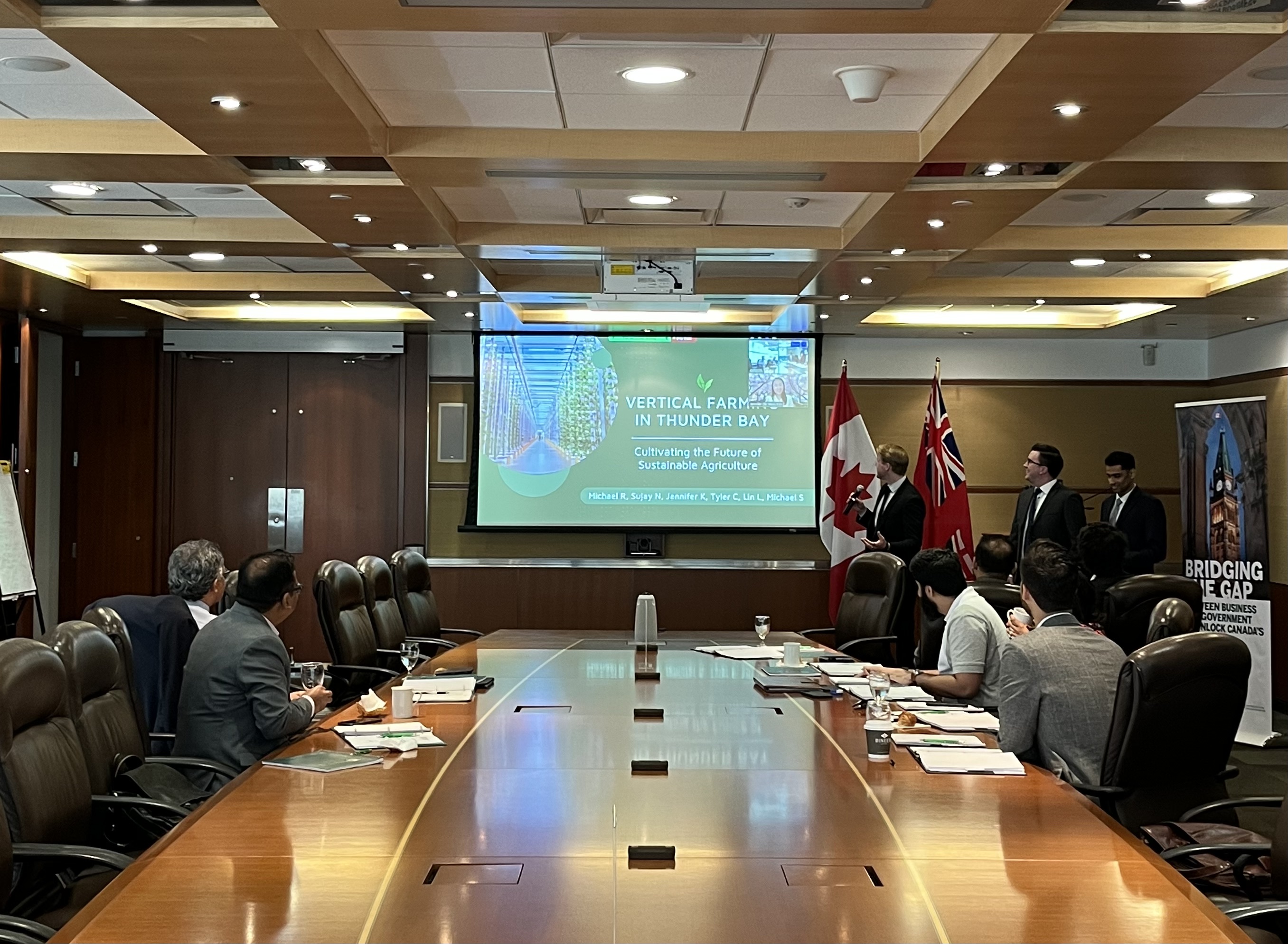 Ultimately, it was Ramsey Andary and his teammates Brandon Clarke, Shreya Gupta, Shravan Kumar Herga, Salena Nazarali, and Devang Seth who were successful at claiming first place. Ramsey attributed leveraging the skills learned throughout the MBA program, along with teamwork, as critical components of his team's success.  "Picking a challenge that our team was passionate about (reducing GHG emissions through energy transition), we developed a solution that involved implementing a Renewable Natural Gas (RNG) and Anaerobic Digestion plant in Hamilton, Ontario, leveraging existing infrastructure systems in the city." Ramsey noted his team's lack of knowledge and experience in RNG was not a deciding factor when selecting their topic. "We broke down the problem we were solving into pieces that we could research in a very short amount of time. By having discussions with city stakeholders and subject matter experts, we were able to become knowledgeable on RNG and Hamilton's current systems in the span of a week. From there, we applied our MBA learnings to analyze the project through various lenses, considering the many aspects that are critical for a successful solution such as financial analysis, operational feasibility, implementation steps, supplementary policy, and identifying potential risks involved."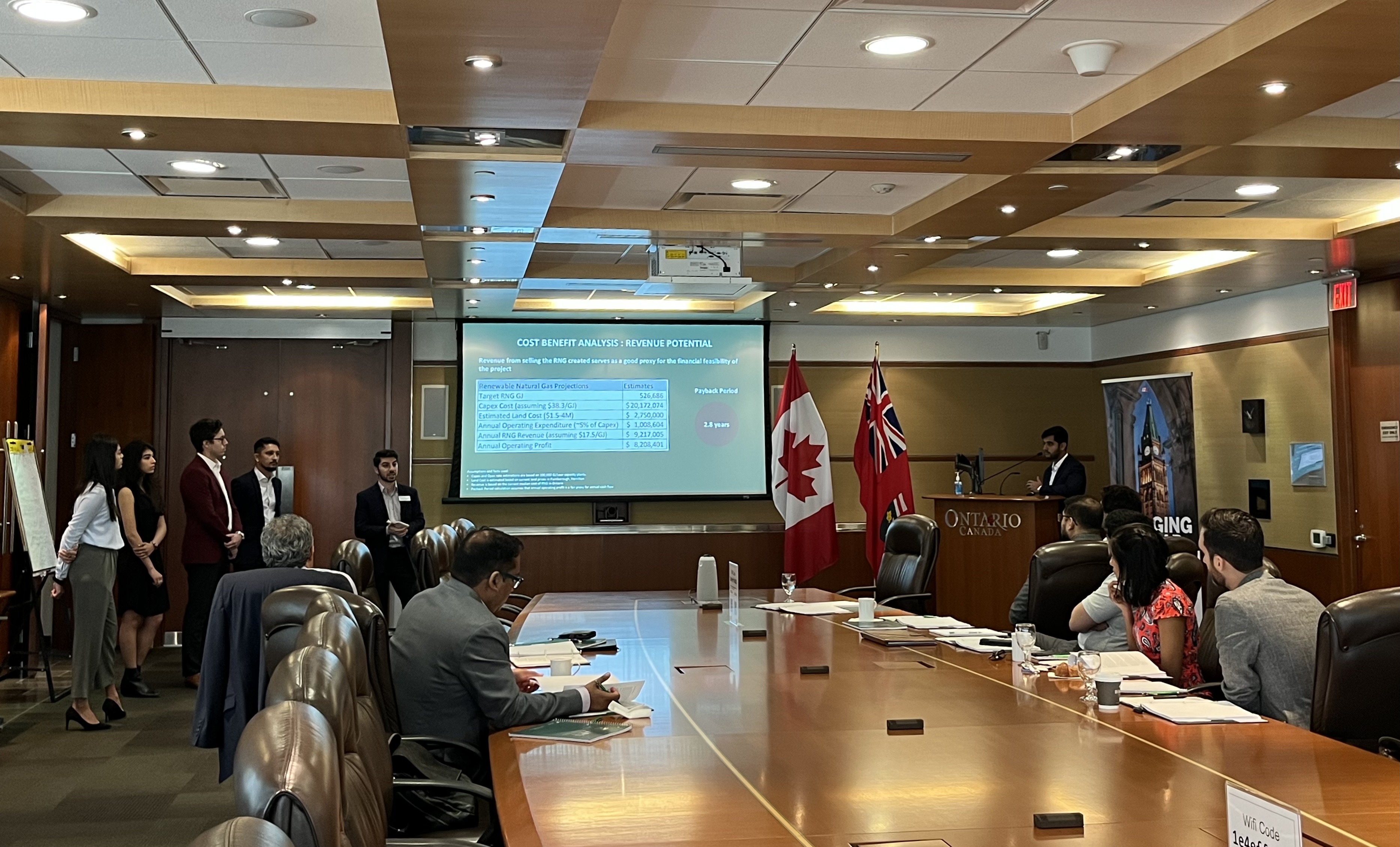 Above: The winning team responds to questions from the judging panel. (L-R) Shreya Gupta, Salena Nazarali, Brandon Clarke, Shravan Kumar Herga, Ramsey Andary, and Devang Seth.
The two weeklong MBA Capstone course was delivered in March 2023 and provided students the opportunity to learn from industry leaders and policy experts on several critical topics. Guest speakers included:
Karli Farrow, CEO, Trillium Health Partners
Hari Suthan, EVP, Advanced Utility
Kelly Gillis, Deputy Minister, Infrastructure and Communities 
Ramtin Attar, CEO, Promise Robotics
Salim Teja, Partner, Radical Ventures
John Hewie, Chief National Security Officer, Microsoft Canada
Naheed Nenshi, Former Mayor of Calgary
Mahmood Nanji, Power Corporation of Canada Policy Fellow, Lawrence National Centre
The Lawrence National Centre would like to thank the Infrastructure Ontario judging panel for their time, and the entire team at the Ontario Investment and Trade Centre (OITC) for hosting our event. Additionally, the LNC is grateful for the Canada Life Research Fund for supporting this work.