News@Ivey
Alumni find creative ways to celebrate Global Ivey Day
Communications
|
May 13, 2021
If anything, the global pandemic has reinforced the power of human connection. And as in-person interactions became limited, people found creative ways to come together. The 12th annual Global Ivey Day is a great example. From virtual baking classes to an online 48-minute report on case learning in the inclusive classroom, Ivey alumni and friends found unique ways to relive the memories and reimagine the School's future.  
"Despite the global pandemic, our volunteers planned engaging virtual events across the world, providing alumni the opportunity to reconnect and look to the future," said Julie Cassidy, HBA '05, who is the Global Ivey Day Committee Chair for the Ivey Alumni Network.
In total, more than 900 Ivey alumni from around the world came together to celebrate, said Jenni Denniston, HBA '04, Director of Alumni Relations at Ivey. And although there were some in-person events, such as a wine-tasting evening, in locations where it was safe to do so, most of the festivities were old traditions with a new twist, such as the Power Lunch, which was a pre-recorded fireside chat.
"Since the majority of events happened virtually, it allowed for alumni from across geographic regions to come together in new ways; for example, the panel event with Professor Tony Frost brought together alumni from Western Canada and Asia," said Denniston. "A huge thanks goes out to the dedicated team of alumni volunteers, spearheaded by Julie Cassidy, and numerous Ivey staff and faculty who came together to make the day a success."
Bridging the gap through virtual events 
Every year, since the inaugural Global Ivey Day in 2010, Ivey alumni have found ways to bridge the distance between them. Even the sudden cancellation of in-person events last year didn't stop alumni from celebrating through digital programming, and that passion continues again this year.
"Global Ivey Day continues to be a great opportunity for our community of alumni to come together, share experiences, and re-establish the connections and bonds that have made our community such a strong and resilient one over the years," said Scott Vanderwel, HBA '98, Chair of the Ivey Alumni Network. "I am very energized by the level of participation happening around the world, at a time when we are all dealing with the impact of COVID-19 and the associated isolation. Watching this community assemble and support each other has been a joy. I wish our alumni around the world a safe and happy Global Ivey Day."
The 12th annual Global Ivey Day had plenty to offer. Here are some of the highlights:
Virtual mini-case discussions
Case classes are the mainstay of an Ivey education and alumni were invited to revisit the experience. Assistant Professor Kanina Blanchard and Professor Alison Konrad led alumni through discussions and role-playing activities for eight mini-cases based on real events dealing with intolerance.
Special podcast episode
Ben Varadi, HBA '94, joined Eric Janssen, HBA '09, MBA '20, for a special episode of The Ivey Entrepreneur Podcast where he discussed his journey in creating Spin Master, one of the biggest toy companies in the world.
Ivey Academy livestream: Global connectedness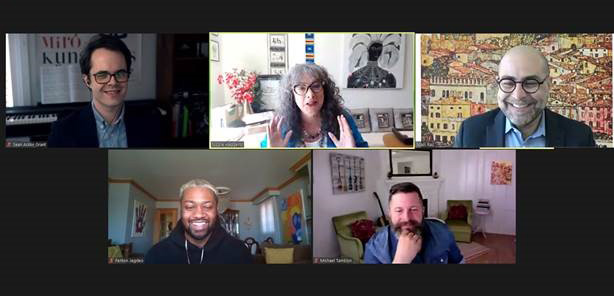 Michael Tamblyn, EMBA '08, CEO of Rakuten Kobo; Fenton Jagdeo, HBA '16, Co-Founder of Faculty; and Nicole Haggerty, HBA '89, PhD '04, Associate Professor at Ivey; discussed being global and what it means for Canadian innovation. The session was hosted by Mazi Raz, MBA '05, PhD '14, Assistant Professor and Director of Learning Design & Strategy at The Ivey Academy.
Power Lunch with Ivey alumni
The Power Lunch was back in a new virtual format where alumni heard from three Ivey Alumni Achievement Award recipients: Patrick Spence, HBA '98, CEO of Sonos, who is the 2021 recipient;  Sukhinder Singh Cassidy, HBA '92, Founder of theBoardlist and Former President of StubHub, and the inaugural recipient; and Joey Bergstein, HBA '91, CEO of Seventh Generation, and last year's recipient.
Watch the recording above.
Women of Ivey Network session
Clare Davenport, HBA '87, founder of Designing4Better, shared advice for managing time, making decisions, and winning the day.
Watch the recording - password: 1@s&cVwf
48-minute report: The future of case-based learning
Assistant Professor Nadine de Gannes, HBA '09, and Erin Huner, Director, Culture and Inclusion at Ivey, led a discussion on case learning and its role in building the inclusive classroom of the 21st century.
Jam out to the Global Ivey Day playlist
A soundtrack of songs was put together to remind alumni of their time at Ivey.
Listen to the playlist on Spotify.
Check out the highlights on Instagram
Alumni had some fun on @iveybusiness on Instagram throughout the day.