News@Ivey
Alumni share insights on the future of business at Ivey Homecoming 2021
Communications
|
Sep 27, 2021
Ivey alumni came together virtually for a day of learning and reflection at this year's Homecoming event on September 25.
The day included a virtual Ivey Pledge Ceremony where alumni committed to act honourably and ethically while receiving a unique, individually numbered Ivey Ring.
It was also a time to look forward as Ivey Dean Sharon Hodgson led a virtual fireside chat with a panel of alumni on the future of work, real estate, and retail. Prakash David, MBA '05, CIO, Triovest; Lisa Dymond, MBA '06, Partner & Head of Talent, Altas Partners; and Gail Rodwell-Simon, MBA '96, Senior Consultant, The Poirier Group discussed how the pandemic has influenced the future of their industries and the future of work in general. Read a few takeaways below.
Watch the video of the fireside chat.
Ivey Distinguished and Alumni Faculty Service Award recipients
In the video above, Scott Vanderwel, HBA '98, Chair of the Ivey Alumni Network Board, and Dean Sharon Hodgson recognized the 2021 Distinguished Service and Alumni Faculty Service Award recipients for their extraordinary impact on the Ivey experience. This year's Distinguished Service Award recipients are Michael Bernstein, MBA '96, President of Juno Advisors Ltd.; Nan Das Gupta, MBA '96, Managing Director and Senior Partner, The Boston Consulting Group; and Tim MacDonald, HBA '81, MBA '88, Partner at EY Parthenon. Lyn Purdy, Associate Professor of Organizational Behaviour and Associate Dean, Programs, received the Alumni Faculty Service Award.
Hodgson said the award recipients represent the deep connections that alumni have to Ivey and highlighted some of the contributions Ivey alumni have made during the pandemic.
"I want to express my deep gratitude to you, our Ivey alumni," she said. "The COVID crisis amplified just how incredible the alumni connection can be."
Takeaways from the Dean's Fireside Chat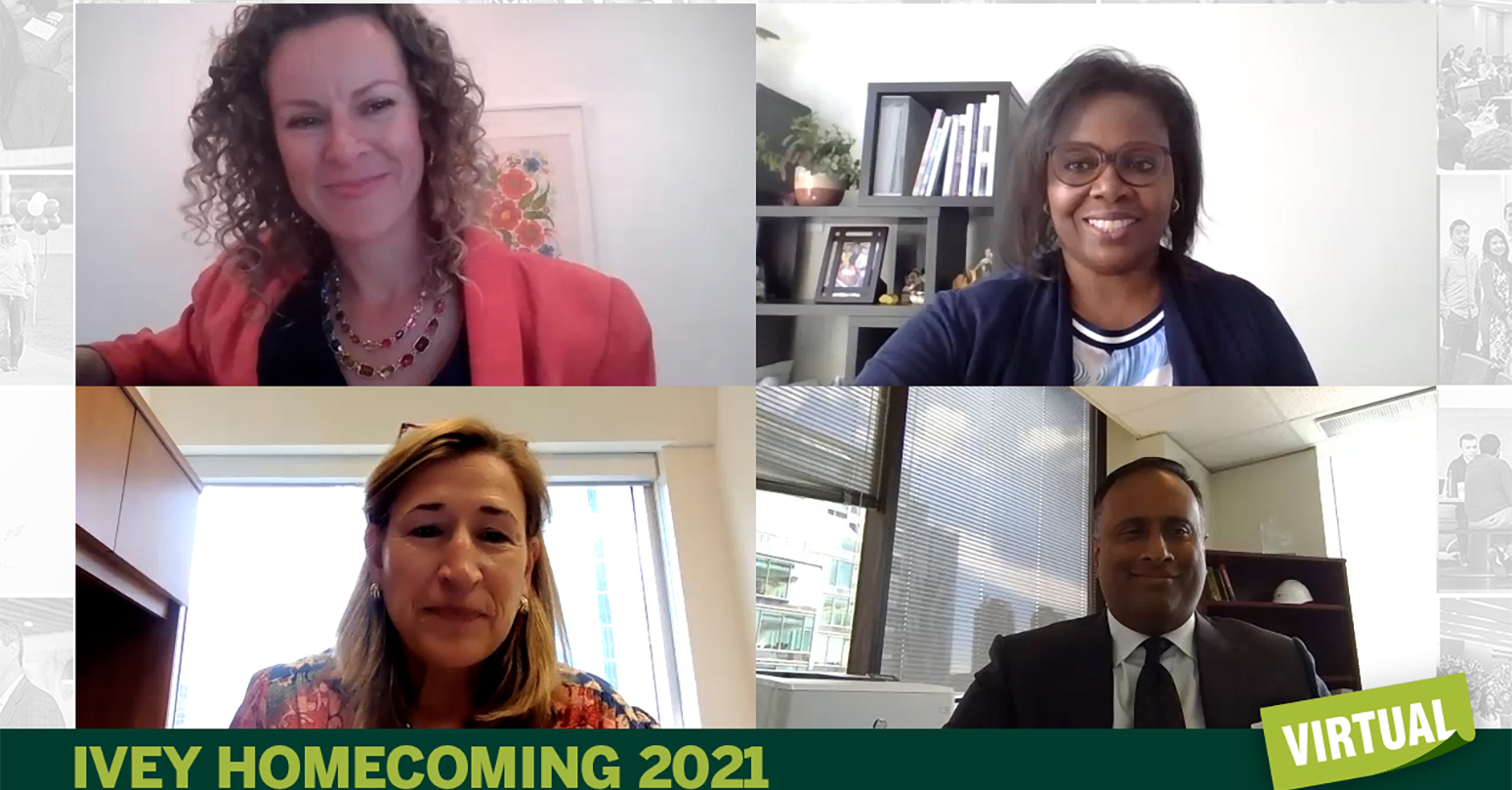 (Top, l-r: Lisa Dymond and Gail Rodwell-Simon; bottom, l-r: Sharon Hodgson and Prakash David)
The virtual and physical worlds are becoming more integrated – Gail Rodwell-Simon, MBA '96
"There has been an acceleration of the digital transformation in terms of the adoption of online shopping and the integration of customer-facing technology, whether it's online or in-store … We need to complete the seamlessness of the customer experience and the customer interaction."
To attract and retain top talent, we need to refresh the value proposition for employees – Lisa Dymond, MBA '06
"[The pandemic] has caused a lot of people to reflect on the role that work plays in their life and it's incumbent on best-in-class organizations to think about how they can create roles that feel much more purpose-driven for people."
As we return to work, the office footprint will change and so will its purpose – Prakash David, MBA '05
"I see more of an imperative to make the office a cultural-driver. How do you make it a fantastic place that drives more productivity? … Making the organization meaningful and finding different ways to connect is critical."