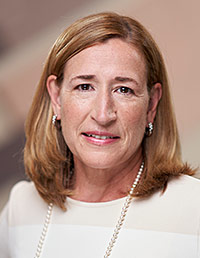 Sharon Hodgson began her role as Dean of Ivey Business School on May 6, 2019.
Prior to Ivey, she held senior leadership roles with some of the world's largest professional services firms, including IBM, PwC, and Andersen Consulting (now Accenture). Sharon brings a wealth of experience leading complex organizations through disruptive environments, and is passionate about continuing to build Ivey's reputation on the world stage.
Throughout her career, Sharon is known for maximizing the potential of her leaders, teams, organizations, and the value IBM delivers to its clients around the world. Her roles focused on leading the most innovative parts of IBM's consulting portfolio, and involved living and working around the globe.
Most recently, Sharon led the multibillion-dollar consulting business for Global Artificial Intelligence, Watson™, and Advanced Analytics out of New York.
Her previous roles include General Manager in Shanghai for the Consulting Business for the Growth Markets Units (GMUs) – which includes the BRICS (Brazil, Russia, India, China, and South Africa), and 135 surrounding countries. And in Toronto, she was General Manager for the Canadian consulting business.
She also served as lead partner for several of the largest global enterprise-level business transformations, including Nestlé, Merck, Mead Johnson, and FMC Corporation. 
Sharon holds a Master of Business Administration from the Wharton School of the University of Pennsylvania, and a Bachelor of Commerce degree from the University of Manitoba.
She also serves as corporate director on boards, including IGM Financial Inc., and Toromont.