Top, l-r: MBA students baking cookies for Ronald McDonald House Charities Southwestern Ontario; Ivey and African students; Paul Beamish with eight MSc students preparing boxes of educational materials for container shipment.
Bottom, l-r: Professor Elie Chrysostome leading a case workshop at BEM Dakar; MBA students doing a community clean-up; students volunteering at the London Food Bank.
---
As thousands of volunteers across Canada give their most valuable gift of all – their time – to participate in various efforts for National Volunteer Week, the Ivey community will be among them.
One of the many ways Ivey will be celebrating its 100th anniversary in 2023, is by giving back to the community that has supported it. Among other activities, the Ivey community will participate in a London Clean and Green project this week for National Volunteer Week and plant 100 trees with ReForest London for the centennial edition of Global Ivey Day (GID) in May.
Giving back has long been part of the Ivey experience and fits with the School's purpose "Inspiring leaders for a sustainable and prosperous world." Ivey students, faculty, and alumni have made an impact in numerous communities around the world – from Addis Ababa to Whitehorse – sharing their time and talent. Here's a look at Ivey's community impact over the years.
"One of the really great ways that we are acknowledging our anniversary is to give back to the community in ways that exemplify our purpose and mission."
- Ivey Dean Sharon Hodgson
Empowering global entrepreneurs through LEADER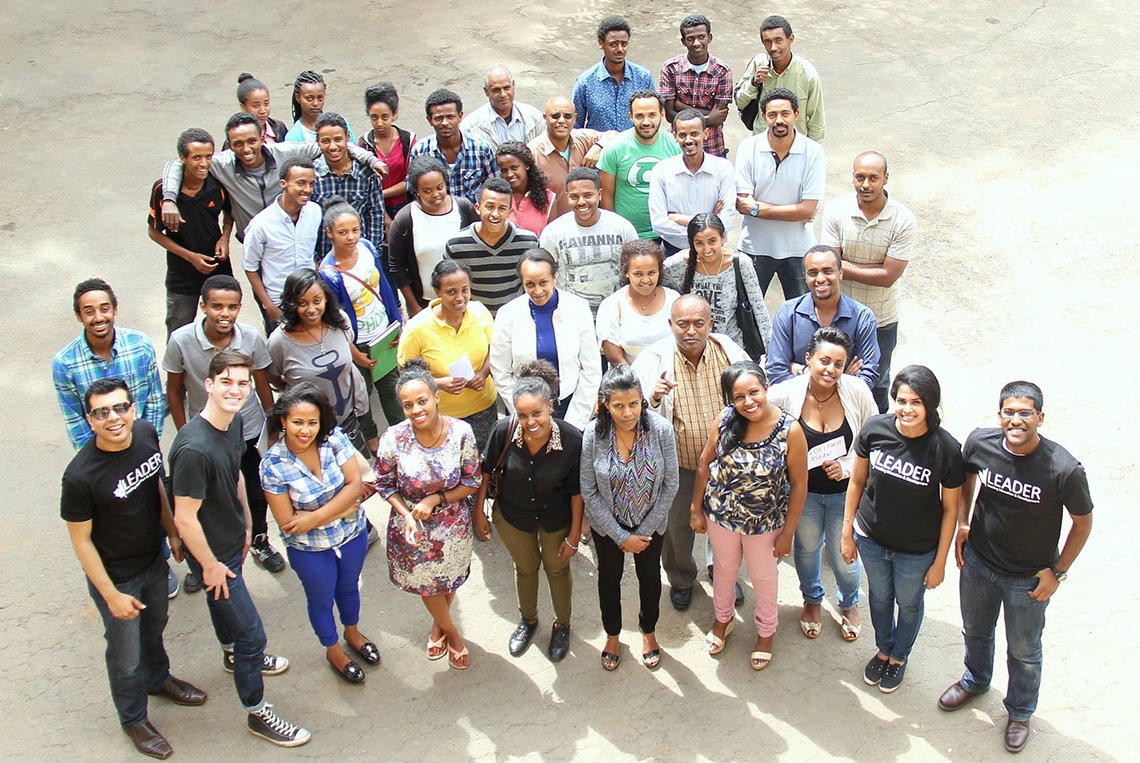 LEADER volunteers and participants in Ethiopia in 2015
---
When Robert Elensky, MBA '92, visited Moscow, Russia in the summer of 1990, he saw how the Russians were struggling to transition from a Soviet system into a free market economy. With support from Professor Paul Beamish, HBA '76, PhD '84, who led the School's Centre for International Business Studies, Elensky along with Scott Hellofs and Paul Fitzgerald, both MBA '91; and Chris Albinson, HBA '90, MBA '93; launched Project USSR. The initiative enabled Western business students to teach basic business skills to students and business people in the former Soviet Union. The next year, the initiative was renamed LEADER (Leading Education and Development in Emerging Regions) and expanded into other countries such as Ukraine, Moldova, and Mongolia. Over the past few decades, the student-led initiative has burgeoned into an international economic development program serving 22 countries with emerging economies. Today, more than 9,000 entrepreneurs and students have learned how to build and scale their business ideas through coaching from volunteer Ivey alumni and students from the HBA, MBA, MSc, and PhD programs.
Lisa Dymond, MBA '06, volunteered with LEADER in Nizhny Tagil, Russia and Dnipropetrovsk, Ukraine while an MBA student and said the experience has continued to inspire her to support other regions of the world.
Now Chair of the Ivey Alumni Network, Dymond continues to draw on the lessons she learned through LEADER and promote the program for the tremendous impact it has in terms of increasing cross-cultural understanding, at a time of acute need.
"It showed me that whatever hardships I might be experiencing, they pale in comparison to the challenges faced by many others."
- Lisa Dymond
Bringing cases to the world's poorest countries
Professor Paul Beamish, HBA '76, PhD '84, said he was motivated by a desire to help reduce poverty through improved education when he had an idea in 2010 to provide Ivey cases at no cost to business schools in the world's poorest countries – those with per-capita annual income of less than US$2,000. Ivey's dean at that time, Carol Stephenson, was supportive and the 39 Country Initiative was born. The collaboration between Ivey Publishing and the International Business Institute (IBI) has since provided free educational materials for use by more than 2,000 faculty members with hundreds of thousands of students from business schools in 44 of the world's poorest countries. Beamish was director of Ivey Publishing from 2010-16 and more recently was director of the IBI.
Beamish recalls contacting the deans of business schools in the countries during the initial rollout and having to convince them there wasn't a catch. When one dean told him the savings on the purchase of educational material would enable the hiring of three additional full-time faculty members, Beamish was inspired to do even more. A few years later, he expanded the initiative to include container shipments of used books, journals, and course packs. Since 2014, there have been six large container-loads of 10,000 items each delivered to universities in need, and Beamish has also organized dozens of other collection nodes to create a worldwide network. In 2017, free case teaching workshops were added to help faculty members in select countries to teach using cases.
The primary areas of emphasis for 2023 are to increase the number of eligible universities from the original 39 (but now 44) countries, and to significantly increase the number of Ivey cases in French. Currently, only three per cent of the eligible cases are in French, while 40 per cent of the eligible 44 countries are French-speaking.
Beamish said the objective is to make sure at least one institution per country has a decent collection of books and journals for its library. Slowly but surely, the initiative has created a virtuous cycle that has the potential to transform the quality of management education in those countries.
"High-quality teaching materials and better-trained faculty members are essential to help business students create and manage successful businesses." Beamish said when reflecting on the initiative's 10th anniversary in 2020.
"I'm a big believer that with improved education, we can help to take people out of poverty."
- Paul Beamish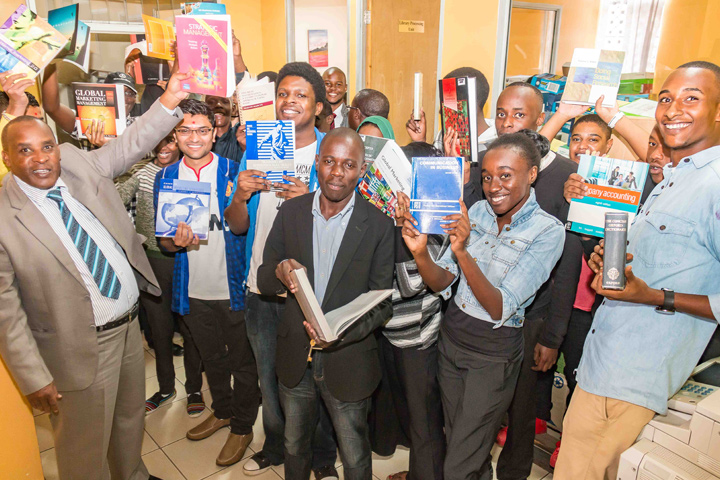 Faculty from Riara University in Kenya receiving a container shipment
---
Transforming business education in Africa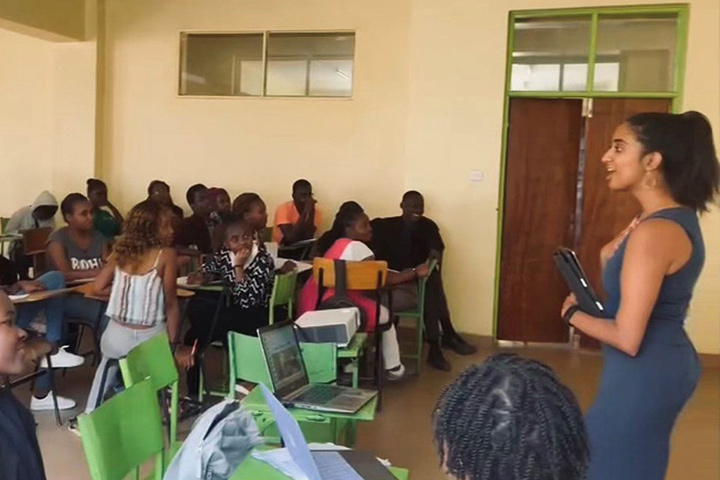 Deshna Kanesalingam, HBA/Computer Science '22 (far right), teaching in Kenya in 2022
---
Seeing how the 39 Country Initiative had revealed the demand for cases and case-based management education in Africa, Associate Professor Nicole Haggerty, HBA '89, PhD '04, created the HBA elective course, Service Learning in Africa, in 2012. The 18 students enrolled that first year spent five weeks in either Nairobi, Kenya; Mombasa, Kenya; Koforidua, Ghana; or Butare, Rwanda teaching African business students and faculty how to use Ivey cases. They also worked with an African faculty member to write a case on an African business.
Haggerty said it was an opportunity for Ivey students to develop a better understanding of doing business in African countries, especially given how the African business context has been evolving, while also helping under-resourced African universities to develop management talent.
"Everywhere I went, I was met with open arms," Haggerty said after visiting Africa in 2012 to line up the African partner schools.
Now called the Ubuntu Management Education Initiative, the course has expanded to include new sites and offer African students the opportunity to come to Ivey on international exchange. To date, the initiative has trained more than 4,000 African students and hundreds of African faculty members as well as produced more than 20 African business cases.  
Some Ivey students who participated in the course are even seeing the fruits of their efforts. Kalisa Godfrey, an African student who was mentored by Kyleigh Stubbs, an HBA/Health Sciences '23 candidate, launched Business in Colors, a four-week program to help youth and adults gain entrepreneurial skills.
It's just one more example of that virtuous cycle.
From international to closer to home
Planting trees, baking cookies, and assembling food hampers are just a few of the many ways Ivey's MBA students contribute to the local community for their annual Social Impact Day. Originally called Community Action Day and involving both HBA and MBA students, the event supported by Ivey's Centre for Building Sustainable Value gets students out of the classroom for a day of volunteer work with local non-profits. A highlight in the student calendar, Social Impact Day both exposes students to various types of volunteering opportunities as well as the corporation's role in society. In recent years, the MBA students have organized two Social Impact Days at various points in the program.
For Saudamini Singhania, an MBA '23 candidate who participated in last summer's Social Impact Day, the experience opened her eyes to the needs locally, not just in faraway places, and how even small actions can make a difference.
"It is very easy to live in a capitalist bubble and assume everything is fine, but these stories and our field experience helped to humanize people living in dire conditions, and emphasized the need to contribute individual and corporate time and resources to take care of people for the betterment of society," she said.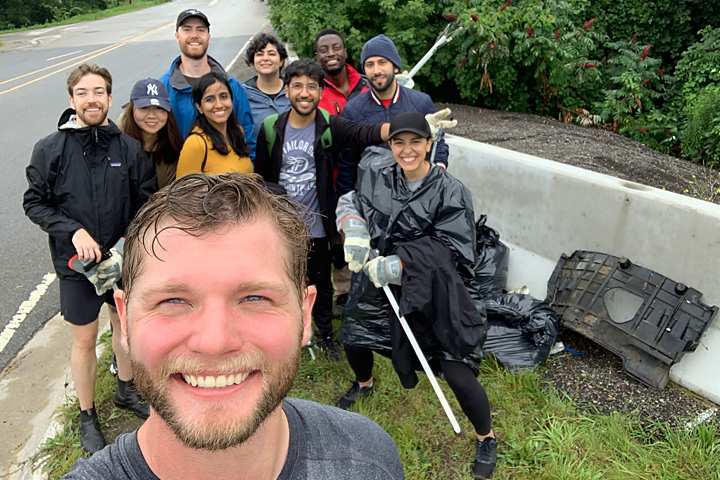 The Waubuno Creek clean-up crew at the 2021 MBA Social Impact Day
---
Bringing Ivey's purpose to life
The lessons students learn from these experiences are enduring as proven by the many ways Ivey alumni continue to give back to society, whether through side projects or career pursuits. A case in point – the recipients of the 2023 Ivey Alumni Achievement Award; David Dobrowolski and John Stelzer, both HBA '04; co-founded a private equity business focused on economic development and poverty reduction in West Africa.
"It's a challenging part of the world to operate in. But one that also sits on the front lines of many of the most pressing global crises we face today – including climate change, biodiversity loss, food security, and economic migrancy," said Dobrowolski. "Building scalable, sustainable businesses that directly tackle these issues is exhilarating and something we're uniquely privileged to be a part of."
It's just one of the many shining examples to date of how Ivey alumni bring the School's purpose to life. And given Ivey's legacy, there will be many more to come.