Ivey clients use several measures of return on their investment in our programs. These include quantified results from action learning programs such as:
Revenue
Profit
Goals achieved
Completion of (revised) personal development plans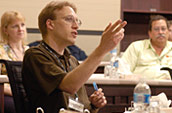 You will have a higher, personal impact on your organization as a result of attending an Ivey Executive Education Program. You will develop the tools that will enable you to:
Ivey develops and delivers dozens of programs that provide solutions for organizations. Your organization will benefit from our programs because:
You will learn to think, act, and lead across your entire organization.
You will approach opportunities with an organization-wide point of view.
You will become uniquely positioned to solve problems and get things done.
You will become adept at collaborating and leading cross-functional teams.
You will become more motivated, confident, and capable, which will motivate and energize other leaders in your organization.
You will develop a powerful professional network to help you explore new concepts and ideas.