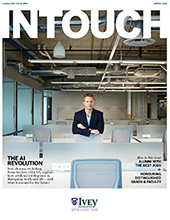 The magazine is distributed twice a year to all Ivey Business School HBA, MSc, MBA, and PhD graduates and students, as well as to all faculty, staff, applicants and special friends of the School.
Published by the Advancement Department, it provides readers with coverage of School news, Ivey Alumni Network news, updates from classmates, faculty research and the accomplishments of a broad array of alumni.
@Intouch
A monthly e-newsletter is distributed to all alumni and past Executive Education participants of the Ivey Business School. Distributed by the Advancement Department, it provides an update on School news, events and research, alumni services, as well as timely information on upcoming regional Ivey Alumni Network events and activities.