Publish date: November 22, 2010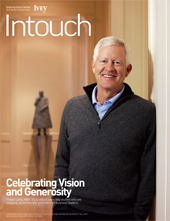 Download Complete Issue (PDF 3.9 MB)
---
Features
Stepping Up
Ivey has launched its largest-ever fundraising campaign to fuel the School's bold strategy. A total investment of $200 million will create an iconic new building, increase student awards, help attract top faculty, and enhance research capability. It's truly a renaissance.
Animal Instincts
What is the strange bond between humans and their companion animals? Can we really share thoughts and feelings with other species? And why do we bother with demanding and expensive pets? Six Ivey alumni reveal their true animal nature.
Departments
Dean's Message
Fuelling the School's strategy.
Coffee with Professors Oana Branzei and Stewart Thornhill
Life as an academic couple takes patience, but it's working out beautifully for Branzei and Thornhill.
Editor's Note and Reader's Write
Ivey Buzz
The sound of Ivey at work
Passions
Almost one-third of kids in Quebec don't make it through high school by the time they're 20. Not good enough, says Jacques Ménard, MBA '70, and he's doing something to change it.
Left Turn
It's the dreamlife for most people. John Hethrington, MBA '61, rents out his luxury villa in Puerto Vallarta most of the year, earning a tidy profit in the process. And for several weeks he and his wife drink in the magnificent surroundings themselves.
Ivey Alumni Association
Healy on Global Ivey Day, and visits with Jay Switzer, MBA '83, Frank Spano, HBA '04, and Alexa Nick, MBA '95. Also, meet the recipients of this year's Ivey Distinguished Service Award and see what you enjoyed or missed at Homecoming 2010.
Case Study
FALL 2010: Defending Reputation
Thought your case study days were over? Think again. Crack the case and share your thoughts with fellow alumni. In this issue: What would you do if your new eco-friendly clothing line turned out to be not as friendly as you thought?