Publish date: November 30, 2011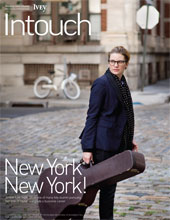 Download Complete Issue (PDF 9.3 MB)
---
Features
Hello, Hello
It all started with a couple of tin cans connected by a string (probably!). Today the telecom industry is integrated with every aspect of our lives, connecting us, entertaining us, making business happen, supporting high-quality health care, and much more. For those in the industry, the challenge of constant change is irresistible.
Musical Interlude
For many Ivey grads, music is a passion, a métier, a mode of creative expression. For some, it has the potential to become a career. Either way, it's a source of deep and abiding joy.
Building the Future
Phase One of the new Ivey building is complete, and it's a knock-out! Join us for a tour of the new facility and meet some of the people who helped make it happen.
Departments
Dean's Message
Reflections on the industry where Carol spent a big chunk of her career, and thoughts on the new building.
Coffee with Professor Ken Hardy
2011 recipient of the Ivey Alumni Association Faculty Service Award, Ken Hardy, HBA '63, reflects on his long tenure at Ivey, and on his plans to ensure QTR (Quality of Time Remaining).
Editor's Note

Ivey Buzz
The sound of Ivey at work
Passions
Most people would rather not think about North Korea, a closed and secretive society with some pretty scary leadership. But Randal Eastman, MBA '93, just wants to help.
Left Turn
No wonder HBA '95 grad Jennifer Lee's business is growing rapidly - she's figured out a way to make broccoli fun!
Ivey Alumni Association
Mark Healy, MBA '05, talks about Global Ivey Day, meet Rachel Weinstein, HBA '01, celebrate four Distinguished Service Award recipients, and re-live Homecoming Weekend.
Future Leaders
The case competition—a traditional Ivey testing ground. MBA '12 Candidate Deborah Terayama and her team thrived on the high.