Publish date: November 23, 2012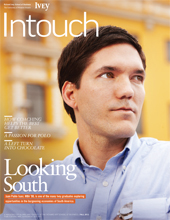 Download Complete Issue (PDF 17.1 MB)
---
Features
Upbeat Down South
A young and energetic population, rich natural resources, and growing political stability – many countries in South America are poised for growth over the next decade and beyond. But there are still challenges. So what are the best ways to realize the potential?
Faster, Higher, Stronger
Once considered remedial, coaching is now the preferred way for many companies to accelerate their high-potential executives. But it can also be the path to personal enlightenment.
Departments
Dean's Message
Doing business in Brazil.
Coffee with Professor David Conklin
Conklin's diverse career has included stints as a university professor, small business owner, political candidate, and policy expert. Since 1994 he's been enlivening Ivey classrooms and expanding our understanding of the external forces that shape the business environment.
Editor's Note and Ivey Buzz
What's happening at Ivey? Hear from our Editor in Chief, learn the latest happenings from the School (including the latest research). And our new building is almost complete! Hear from Professor Fraser Johnson on what it's like to teach in our new home.
Passions
Polo is not for the faint-hearted - you have to control a huge animal while hitting a tiny ball with a stick and fending off the moves of the opposing team. Paul Boucher, MBA '90, can't get enough of it.
Left Turn
A career making chocolate? In Barbados? It's hard to imagine a better job than the one Derrick Hastick, EMBA '07, created for himself.
Giving to Ivey: Leaders in Business, Leaders in Philanthropy
Former Ivey Business Leader Award recipients come together to support the next generation of business leaders.
Ivey Alumni Association, Distinguished Service Award Recipients and Homecoming 2012
Introducing incoming Chair Anthony Ostler, who has big plans for the Association and Ivey alumni around the world. Also, celebrate four Ivey Distinguished Service Award recipients and relive Homecoming Weekend.
Future Leader
YOLO is short for "You only live once," the theme of this year's Orientation Week at Ivey. Samantha Hamilton, HBA '13 Candidate, and her team filled the schedule with fun and learning.