Publish date: December 5, 2013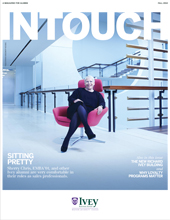 Download Complete Issue (PDF 19.3 MB)
---
Features
Match Point
All those points you earn doing everything from buying makeup to booking a flight? They're part of a sophisticated system to understand consumers better.
Sell Well
No company makes money until somebody sells something! While sales may sometimes look easy, it takes a rare combination of skills to be successful.
A Day in the Life
The new Richard Ivey Building thrums with energy and bright ideas.
Departments
Dean's Message
From Ivey's new Dean Robert (Bob) Kennedy
Editor's Note
Duet
Eric Morse taught Rob Mitchell his ?rst course on entrepreneurship. Today, their collaboration is based on mutual respect and admiration.
Ivey Buzz
What's happening around the School and around the world, including coverage of the grand opening celebration of the Richard Ivey Building in September 2013.
Passions
Erica Willick, HBA '04, proves that strong is beautiful.
Left Turn
John Dickey, MBA '93, left the corporate world to ?nd the perfect lifestyle.
Your Ivey Network
Read about Ivey alumni who are just like you - hard-working, creative, successful, and committed to giving back. This section is dedicated to accelerating and amplifying the benefits of the Ivey network and connecting you to one another.
Chair's Message: Ivey Alumni Association Chair Anthony Ostler, MBA '97, connecting with fellow alumni
2013 Alumni Service Award Recipients: Celebrating four of our best  (ALSO: VIEW AWARD VIDEO ONLINE)
Homecoming 2013: New building, new Dean, record turnout
Ivey Couple: Alfons Futterer and Jacqueline Gan
Working Together: Bitmaker Labs survives and thrives
A Very Valuable Volunteer: Saul Simonavicius, Class Liaison