Publication Date: September 1, 2016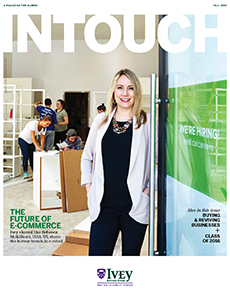 Download Complete Issue (PDF 6 MB)
---
Features
Clicks & Mortar
Ivey alums are leading in the ever-changing retail world. They share how they're adapting, and what it takes to ensure a great online shopping experience for customers.
Buy Small, Grow Big
Ivey graduates explain why they bought existing companies (instead of starting their own), and how they've revitalized these businesses into thriving successes.
Bird's-Eye View: Class of 2016
See our recently graduated class of 2016 from a new perspective. Get the full picture on our programs and graduates. How does it all stack up to your time at Ivey?
Departments
Dean's Message
Duet
Diane-Laure Arjaliès and Vaughan Radcliffe strive to make accounting interesting for their students through effective teaching, guidance—and not telling them what to think.
Ivey Buzz
What's happening around the School and around the world.
Left Turn
Lois Nahirney, MBA '90, traded a career as an executive in the oil and gas sector for an entrepreneurial role as CEO of dnaPower, one of Canada's first lifestyle DNA companies.
Passions
Margherita Braga, HBA '09, is part of Deloitte's Human Capital Consulting group in Toronto—but in her spare time, she's leading her rowing team as the "coxie" for their boat.
Giving to Ivey
Bill Troost, MBA '75, and his wife Kathleen recognize the vital role scholarships, teaching and research play in attracting top students.
Your Ivey Network
A message from Ivey Alumni Network Chair, Michael Bernstein, MBA '96; Ivey Lives Remembered, Jim Hunter, MBA '76; Diply.com and GreenBug Energy; why Class Liaisons are so important; and the latest class notes from your Ivey friends.
To request extra copies of the magazine, please contact Jessica Uniac.