Publish date: April 4, 2012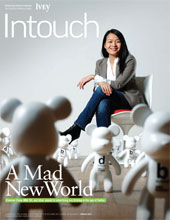 Download Complete Issue (PDF 10.3 MB)
---
Features
Live, Lead and Learn
Researchers continue to puzzle over the characteristics that make a successful entrepreneur. Entrepreneurs themselves aren't waiting to find out: they're too busy dreaming up great ideas, inspiring others, taking calculated risks, and loving every minute of it. One thing is clear: once an entrepreneur, always an entrepreneur. Intouch speaks to eight great examples, ranging in age from early 20s to late 60s.
A Mad New World
The popular TV series Mad Men chronicles a long-lost world of cigarettes, booze, affairs, and clever advertising slogans. In today's digital world, all the rules have changed. Or have they? Intouch talks to alums in advertising in the era of Twitter.
Departments
Dean's Message
Ivey's cross-enterprise leadership approach to business education is at the heart of entrepreneurship.
Coffee with Professor Fernando Olivera
Okay, the secret is out: Olivera is a huge fan of Björk. He's also a brilliant researcher who explores how companies and individuals learn from their mistakes.
Editor's Note and Ivey Buzz
The sound of Ivey at work including an update on Ivey's new building.
Passions
For most of us, sitting on a ski lift going up a mountain is empty time. Not for Peter Machalek, HBA '08: he dreamed up a business and then made it happen. Now on your way up the mountain, you're likely reading about a product you can't live without.
Left Turn
When Christine Russell, HBA '01, discovered what yoga could do for her body and her leadership skills, she also found her entrepreneurial dream. 889, Toronto's hottest yoga studio, is the result.
Ivey Alumni Association
Mark Healy, MBA '05, has seen the next frontier in alumni relations, and it's students! Global Ivey Day rocked: check out the photos and then see more online. And meet two people in your network: real estate mogul Rob Roy, HBA '82, and innovation expert Melinda Lehman, MBA '84.
An Extraordinary Man
Jim Hunter, MBA '76, a visionary businessperson and tireless supporter of Ivey, received the 2011 Career Achievement Award at the Canadian Investment Awards in November.
Ivey Lives Remembered
Bill Fuller, MBA '61, 1933 - 2011
Future Leaders
It's the traditional Ivey rite of passage: the 48-hour report. Vivek Ramaswami, HBA '13 Candidate, talks about why he thinks the 48 is an important experience.