Publish date: March 25, 2013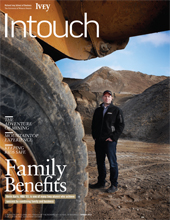 Download Complete Issue (PDF 18.9 MB)
---
Features
All in the Family
Family businesses represent a big chunk of GDP and probably the most successful business model in the world today. So what's the deal - why do they work so well?
Buried Treasure
It's a global industry in which Canada leads, and it's one where many Ivey grads have built satisfying careers. But there's nothing easy about finding the treasure in mining.
Departments
Dean's Message
Coffee with Professor Rob Klassen, MBA '89
Environmental sustainability was heresy when Klassen started his research career; now it's a critical business issue.
Editor's Note and Ivey Buzz
What's happening at Ivey? Hear from our Editor in Chief, learn the latest happenings from the School (including the latest research) and find out how a a father/daughter alumni duo feel about Ivey's new building.
Passions
They came back from Afghanistan and other missions, some with visible injuries, some with ones that can't be seen—all with their lives changed forever. Tim Hodgson, MBA '88, chose to climb in the Himalayas with a group of injured veterans.
Left Turn
Talk about a better mousetrap—Chris Lumley, HBA '00, MBA '04, has come up with a safer, better looking child's car seat that's easy to use. And he doesn't mind telling anybody all about it...
Giving to Ivey
The energy sector is a major driver in the Canadian economy, and Suncor wants Ivey students to know it. This year four outstanding HBAs received the inaugural Suncor Energy Emerging Leaders Awards and made an important connection.
Your Ivey Network
Who's in your network? Everyone who has ever attended Ivey! This new section is dedicated to accelerating and amplifying the benefits of the Ivey network and connecting you to one another. It's class notes on steroids!
Chair's Message: Ivey Alumni Association Chair Anthony Ostler, MBA '97, visits alumni around the world
Emerging Leaders Celebrated: The Emerging Leaders Awards prove that Ivey's best and brightest are really good and very, very bright
Global Ivey Day 2012: Ivey's worldwide family celebrates: Bigger, broader and better in its third iteration
Having a Ball: Scott Hill, MBA '02, founder of NHL Play On!
Leading in New York City: Darren Johnston, MBA '99, is connecting with alums in NYC
Ivey Lives Remembered: Colin Hubling, HBA '53
Ivey Lives Remembered: Keith Johnston, HBA '57
Back to the Future: Gina Bucio Betancourt, HBA '13 Candidate, attends an alumni board meeting