Publish date: March 31, 2014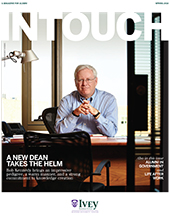 Download Complete Issue (PDF 13.3 MB)
---
Features
Introducing Dean Robert Kennedy: A conversation with the Dean
He takes the helm at a high point in Ivey's history, bringing with him an impressive array of experience and expertise. So what has our new Dean learned in his first 100 days on the job, and where will he take things next?
Going Public
Some people see it as going over to the Dark Side, but many alumni have put their Ivey experience to work in government at the municipal, provincial or national level. They embrace the challenge and complexity, and value the opportunity to have an impact.
Redefining Retirement
A lot of Ivey grads are uncomfortable with the "R" word. After spending their careers working and playing hard, they are tackling the next chapter with gusto.
Departments
Editor's Note
Duet
Do you play the slots? Are you a slave to loyalty cards? Can't resist a sale announced by email? June Cotte and Miranda Goode are intrigued by what makes consumers tick (and buy).
Ivey Buzz
What's happening around the School and around the world, including coverage of the grand opening celebration of the Richard Ivey Building in September 2013.
Passions
Cabbage Boy is the super hero featured in Steven London's new book. Prepare to be grossed out and keep your kids chuckling.
Giving to Ivey
Ross Clouston's two sons established a scholarship to honour his achievements and spirit. More than a dozen Ivey students have used it as a launching pad to success.
Your Ivey Network
Who's doing what, where and with whom? This section, which includes your very own Class Notes, is dedicated to accelerating and amplifying the benefits of the Ivey network and connecting you to one another.
Included in this section are all your Class Notes, plus:
Chair's Message: Ivey Alumni Association Chair Anthony Ostler, MBA '97, paying it forward
Emerging Leader Awards: Starting Strong
Global Ivey Day 2013: Celebrating an international network
Alumni Student Collaboration: Ivey Business Review
Working Together: SmartPartsTM at Bombardier
The Gift of Time: Ivey Alumni Partnership Program