Publish date: July 26, 2011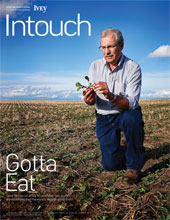 Download Complete Issue (PDF 9.5 MB)
---
Features
Gotta Eat
Nine billion people to feed by 2050, with less arable land and dwindling oil resources. That's the central challenge and opportunity facing agri-business today. It's a complex industry, involving technology, advanced science and global marketing and supply chains, all focused on meeting the most basic of human needs.
Class of 2011: World Changers
Sure, they're ready to create value for their employers and entrepreneurial ventures. But this year's crop of new alumni has a broader perspective on the challenges ahead of them. They're ready to change the world, one day at a time.
Departments
Dean's Message
Impact: Ivey graduates are ready to change the world.
Coffee with Professor Jim Hatch
A man of endless curiosity, he is the consummate story-teller and a deeply caring teacher.
Editor's Note

Ivey Buzz
The sound of Ivey at work
Passions
It's the ultimate team sport—if you don't work together, you end up going around in circles. Michael Tang, HBA '09, co-captains a team each year
in Toronto's famous Dragon Boat Festival.
Left Turn
When is it too early to learn about money and business? Never, says Jeannine Glista, HBA '91, MBA '97 whose Biz Kid$ series is a big hit on U.S. public television.
Giving to Ivey
QuantumShiftTM gives entrepreneurs the skills they need to take their companies to the next level. The program is a perfect partnership between Ivey and KPMG.
Ivey Alumni Association
Mark Healy, MBA '05, talks about engagement. Mary Heisz, HBA '82, MBA '02, and Eli Singer, HBA '01, are in your network.
Future Leaders
Hockey by the numbers—that's recent MBA graduate Neil Lane's business idea and thanks to the Ivey New Venture Project, he's been able to refine it and attract some investors while completing his MBA.
Ivey Lives Remembered
Gerrit Dirk (Dick) Markvoort, MBA '80, 1954 - 2008