Publish date: July 26, 2012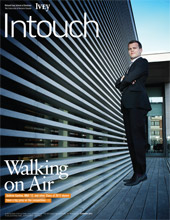 Download Complete Issue (PDF 12.7 MB)
---
Features
Surfing the Silver Tsunami
One quarter of CEOs say they can't pursue market opportunities or strategic initiatives because they don't have the talent they need. And you thought the economy was sluggish! Fact is, the en masse departure of the Baby Boom from the workforce is creating some critical gaps, and human resources professionals and recruiters are working hard to fill them.
Class of 2012: Catching Air
They've captained ships, done AIDS research, scouted for professional hockey, run large companies, served in developing countries, and much, much more. Now the Class of 2012 is armed with a new, Ivey-bred understanding of leadership and ready to take a leap into their futures.
The Better Idea
It was touted as a beautiful and functional building that would capture the Ivey ethos in stone and glass and make us all proud. And guess what? The new building delivers on all counts and then some. Donors talk about why they're thrilled by the results.
Departments
Dean's Message
Ivey is well positioned to fill the talent gap.
Coffee with Professor Guy Holburn
Energy policy is a hot topic in Canada these days, and Holburn is right there at the intersection where policy, politics and business meet.
Editor's Note and Ivey Buzz
The sound of Ivey at work including the launch of an international charity.
Passions
Some people cook to eat. Pierre Bergevin, HBA '89, cooks to live (and lives to cook).
Left Turn
Michelle Stanford, MBA '98, was a high-flying consultant and executive when she got a call from the ultimate head-hunter –God.
Ivey Alumni Association
A tribute to the creative leadership of outgoing Chair of the IAA Board, Mark Healy, MBA '05.
Future Leaders
Mark Gilbert, MBA '12, was one of four co-Chairs of the Ivey LEADER Project, and helped lead expansion of the project into India, Haiti and Tanzania.