Publish Date: March 23, 2015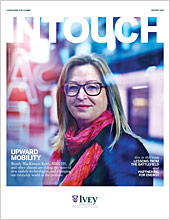 Download Complete Issue (PDF 5.3 MB)
---
Features
Upwardly Mobile
Mobile phones that know you better than you know yourself. Drones that can track a lost pet. Mobile scanners that sound like a Star Trek Tricorder. The mobile revolution is under way, and the sky may not be the limit.
Fight Club
They say that business is war. But these Ivey alumni have experienced both war and business and have a more nuanced perspective.
Celebrating our Best
For many alumni Jim Erskine and Ivey are virtually synonymous. Erskine was one of four outstanding Ivey graduates honoured at Homecoming 2014.
Departments
Dean's Message
Duet
Lynn Imai and Andreas Schotter are globe-trotters with a passion for international business.
Ivey Buzz
What's happening around the School and around the world.
Passions
Wendy Liu, BESc/HBA '13, has built an online following of thousands for her quick and easy sewing lessons.
Left Turn
It's not easy shooting a documentary in the far North, but Laura Rietveld, MBA '04, embraced the challenge to tell a compelling story.
Giving to Ivey
A unique partnership brings the key players in the energy industry together with Ivey researchers—and the results are exciting.
Your Ivey Network
Homecoming, Global Ivey Day, Emerging Leaders, and more. This is your section—enjoy! And don't forget to share your news with us. 

Included in this section are all your Class Notes, plus:
Chair's Message: Ivey Alumni Network Chair Anthony Ostler, MBA '97
Global Ivey Day: Around the world in 24 hours
Emerging Leaders Awards: Visionary, creative, and committed to living the Ivey mission
Homecoming 2014: Re-living good times
From Brampton to Bollywood: Jonita Gandhi, HBA '12
Running for Lac-Mégantic: Pierre Pomerleau, MBA '89