Large, supportive and highly successful, the Ivey Alumni Network has more than 27,000 members in 106 countries. Approximately one in two Ivey alumni hold senior management positions within their companies.
Intouch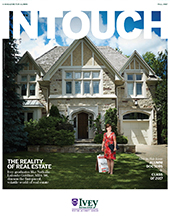 The alumni magazine is distributed two times a year to all Ivey Business School HBA, MSc, MBA, EMBA, and PhD graduates and students, as well as to all faculty, staff, applicants and special friends of the School.
Published by the Advancement Department, it provides readers with coverage of School news, Ivey Alumni Network news, updates from classmates, faculty research and the accomplishments of a broad array of alumni.