Ivey Energy Policy and Management Centre
MBA Energy Club hosts conversation with Jay Grewal of Manitoba Hydro
Graham Calvin
|
Sep 14, 2020
Graham Calvin, MBA '21 candidate and President of Ivey's MBA Energy & Resources Club, recently co-organized a conversation with Jay Grewal, President and CEO of Manitoba Hydro. The event was co-hosted with Ivey's Women in Management Club on August 18th. Here are some of the takeaways from the event.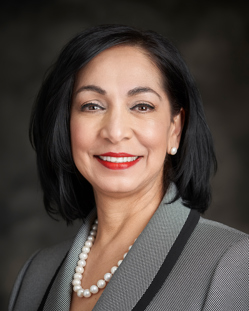 Members of Ivey's MBA Energy & Resources Club recently had the pleasure of hearing from Jay Grewal (MBA '85), President & CEO of Manitoba Hydro, regarding her career, some of the challenges of leading a utility through the ongoing COVID-19 pandemic, and some thoughts on the future of Canada's power & utilities sector.
While many of the changes in the power & utilities sector is occurring behind the meter at customer sites—through developments such as the electrification of transport, demand response programs, and the ongoing installation of batteries and other behind-the-meter generation resources—Manitoba Hydro is carefully undertaking infrastructure projects to ensure it can support Manitoba's growing electricity consumption. One such project is Manitoba Hydro's Keeyask Generating Station, a 695-MW hydroelectric generating station due to begin generating power in Fall 2020.
As a result of COVID-19, construction of the Keeyask Generating Station was temporarily suspended while Manitoba Hydro and its partners on the project—Tataskweyak Cree Nation, War Lake First Nation, York Factory First Nation, and Fox Lake Cree Nation—worked tirelessly to determine how construction could continue without putting any local communities, employees, or contractors at risk. Through careful measures such as mandated quarantines, multi-level screening of personnel, and the development of a comprehensive COVID-19 response plan, these parties were able to put the project back on track.
While hydro projects such as Keeyask are being constructed to serve Manitoba's future demand, in the interim they will offer Manitoba a valuable export: reliable, low-carbon surplus electricity. Despite the fact that the regulatory regimes in many jurisdictions do not properly recognize the value of the reliability offered by hydro-electricity, Ms Grewal thinks this may begin to change. As North American markets begin to transition to lower-carbon power systems, they will require generation resources which, unlike wind and solar, can provide power that is both emission-free and reliable. This will provide significant opportunity to the likes of Manitoba Hydro, BC Hydro, and Hydro-Québec, who have an abundance of hydro-electric generation and expertise in developing and operating these assets.
I believe that owners, operators, and developers of power assets would be wise to pay careful attention to how these trends will affect their infrastructure portfolios. With an increasing intermittency in the power supply as variable renewable energy sources such as wind and solar are deployed, and a growing risk of regulatory action against fossil fuel–fired power plants, the relative value of hydro-electric power plants, and high-quality hydro resources, is likely to become increasingly apparent.