News@Ivey
MBA students tackle EDI reforms in football
Communications
|
Jun 23, 2022
Equity, Diversity, and Inclusion (EDI) has been at the forefront for leaders and hiring managers in a variety of industries for several years now. Leaders in the National Football League (NFL) are no exception.
For the 2022 MBA Showcase, students reviewed a case that challenged them to provide recommendations on how the NFL can improve diversity efforts, especially in its coaching ranks. During the three-day event, students participated in a variety of EDI workshops, exercises, and a panel presentation, all of which helped prepare them for this case and will help them be better leaders. 
Working in teams, students had five hours to analyze the case and prepare their recommendations. They then presented their recommendations to a panel of faculty, alumni, and guest judges.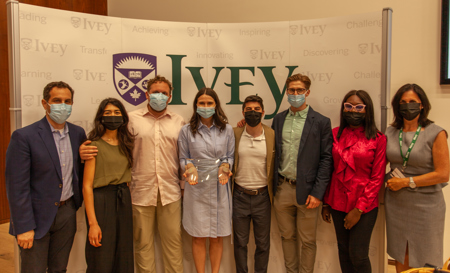 Congratulations to Team 8 for winning the 2022 MBA Showcase! Team members included:
Ramsey Andary
Reilly Baggs
Omoefe Eromosele
Giustin MacLean
Nick Meronyk
Salena Nazarali
Thank you to the judges:
Sasha Gerster, MBA '17
Scott Loveland, MBA '17
Melissa Marcelissen, EMBA '20
Marlene McGrath
Emmanuel Ukposidolo, MBA '20