Nick Spence, Regional Manager, Movati Athletic, details his experience in the Ivey Leadership Program and how the support of an executive coach helped him solve his most pressing leadership challenge.
One of the key features of the Ivey Leadership Program is the opportunity for program participants to formulate and execute a plan for dealing with a specific leadership challenge that faces them now or in the immediate future. After the program has concluded, program participants have two coaching session calls with an Ivey Academy executive coach. These calls serve to assist program participants in positively impacting their leadership responsibilities through solving their leadership challenge. 
Describe the progress you made in addressing the leadership challenge you identified.
I'm a young leader with a leadership style that has worked for me, but I work with some people in the organization who need me to make some adjustments and changes. The coach who was assigned to me, Elisa, has a very similar background to mine. I really appreciate that The Ivey Academy intentionally partnered me with a coach unique to my circumstance.
Elisa was able to coach me through some of the adjustments I needed to make, but also help me to trust myself and remain authentic as a leader. To do this, she helped me navigate certain scenarios where I could apply the tools I learned in the Ivey Leadership Program. 
Was your challenge addressed sufficiently?
Absolutely. Elisa was able to break down every single one of the problems I had. She effectively listened to the feedback I gave her and constructed scenarios where she was able to accurately predict the specific issues I was encountering with my colleagues. It was like talking to someone who is actually experiencing the situations with me, who truly understands what I'm going through as a leader. 
How was your coach able to help you in implementing your plan using the tools you gained during the Ivey Leadership Program?
We spoke during the program about radical candour, and typically it's an approach you use with your direct reports. But with my coach's help, I learned that you can apply it to your peers, and use it to manage up as well.
How did your coaching sessions compare to your expectations?
The coaching sessions far exceeded my expectations. My coach gave me solid, tangible advice that I could apply.
I think when you meet with a coach, they need to be able to align, engage, and quickly equip you with information. My coach was able to do that.  I was able to learn something new in each coaching session even though they were both focused on the same topic. 
Would you recommend Ivey coaching and the Ivey Leadership Program to others?
100 per cent. I completed the course in November 2019, and I still talk about what I learned almost every single day. For executives who want to execute at a very high level, this is the perfect environment to learn. The atmosphere, the way you get to connect with people, the energy in the room, the attention to detail from a logistical perspective, the level of personalization – I'm still in shock at how great the program was.
As a young leader, I probably had the least amount of experience among my peers in the program. There were directors, SVPs, EVPs – being able to learn from those groups of people, especially if you aspire to be in a senior leadership position, was really valuable for me. Not only was I helped a great deal by my coaches, but I continue to be helped by many of my classmates. I felt such a rapport with them that it's easy for me to pick up the phone and call anyone to ask how they would handle challenges I'm currently facing, or get their perspective on a pressing issue for me.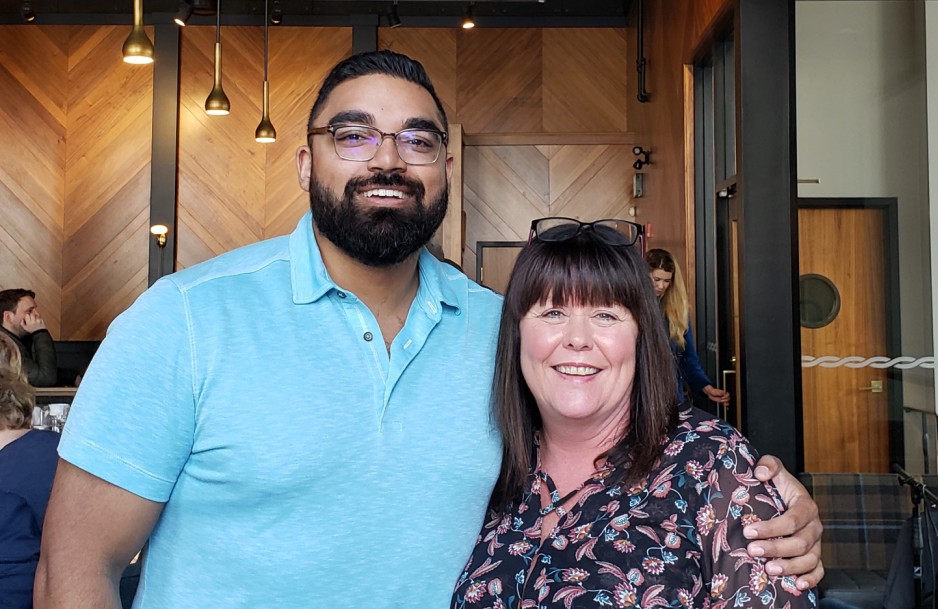 Nick Spence and fellow program participant Shelley Gould reconnect following the program's completion
Would you be interested in future Ivey programs with a coaching element?
Absolutely. Anyone that is looking to develop themselves, either personally or professionally, should consider an Ivey Academy program with coaching. It was amazing.
For more information on the Ivey Leadership Program, please download a program brochure.
About The Ivey Academy at Ivey Business School
The Ivey Academy at Ivey Business School is the home for executive Learning and Development (L&D) in Canada. It is Canada's only full-service L&D house, blending Financial Times top-ranked university-based executive education with talent assessment, instructional design and strategy, and behaviour change sustainment. 
Rooted in Ivey Business School's real-world leadership approach, The Ivey Academy is a place where professionals come to get better, to break old habits and establish new ones, to practice, to change, to obtain coaching and support, and to join a powerful peer network. Follow The Ivey Academy on LinkedIn, Twitter, Facebook, and Instagram.