The changing role of the Chief Information Officer
When Russ Bruch, HBA '85, EMBA '10, was in second year of university heading for Ivey's HBA Program, he wanted to take an advanced computer science course. The department head told him it was only for students enrolled in computer science degree programs, but Bruch pushed, and got in. "It was a tough course," he remembers, "but I learned a great deal."
One of the things he learned is that he wasn't really interested in being a developer or system architect. "For me, it was always about using technology to solve a business problem, enable a strategy, and align with business goals." Bruch's approach was remarkably prescient. In the intervening 30 years, technology has moved from being a mysterious art to an integral part of every business. In the process, the role of the technology leader has changed, and continues to evolve.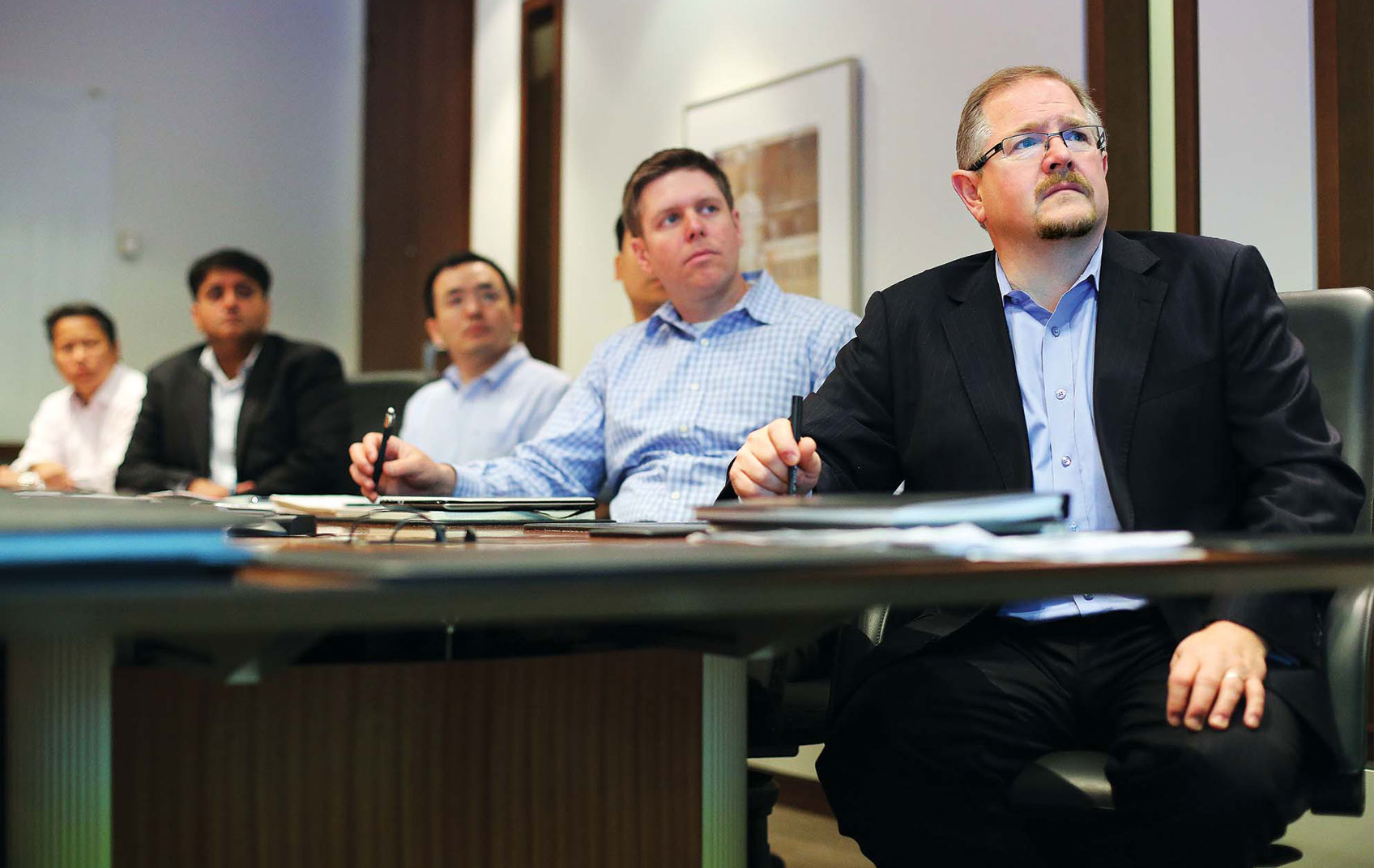 Bruch joined IBM after graduation, and then moved to Ontario Teachers' Pension Plan (OTTP) just as it became an independent organization. In the early days he helped develop a system for pension administration, and later moved to the investment side. Today he is Senior VP and Chief Information Officer. In his view, the CIO must be a "good partner" to every other part of the business. "My team helps Teachers' serve members better, manage risk better, and earn better returns on investments. We are partners in helping the business be the best it can be.
Unlike Bruch, Doug Thomas, HBA '80, had little exposure to technology early in his career. From Ivey he moved into public accounting, and then worked with ICI Canada (CIL) in finance for more than a decade. He joined the Independent Electricity System Operator (IESO) of Ontario in 1998, again in a finance role. In 2013 he became Director of IT and he is now Vice-President Information and Technology Services, and Chief Information Officer.
Thomas's unusual path to the CIO chair is a reflection of the changing role, he says. "As CIO you need to be an equal member of the broader management team," he says. Thomas admits that he had a steep learning curve at first, especially around issues of hardware and infrastructure. But he says CIOs don't have to be techies. "At the end of the day you just have to learn to ask the right questions."
Ian Banks, EMBA '99, also came to the CIO role by a circuitous route. He spent the first half of his career in operations management. After representing operations on a major IT project, he began to get more involved on the technology side. But he was still surprised when the CEO of his company asked him to take the lead in IT. Banks has moved in and out of CIO roles for the past 15 years, and is currently Chief Information Officer at Metrie (formerly Sauder Industries). Although his background is not technology, he says he has learned enough "to be dangerous."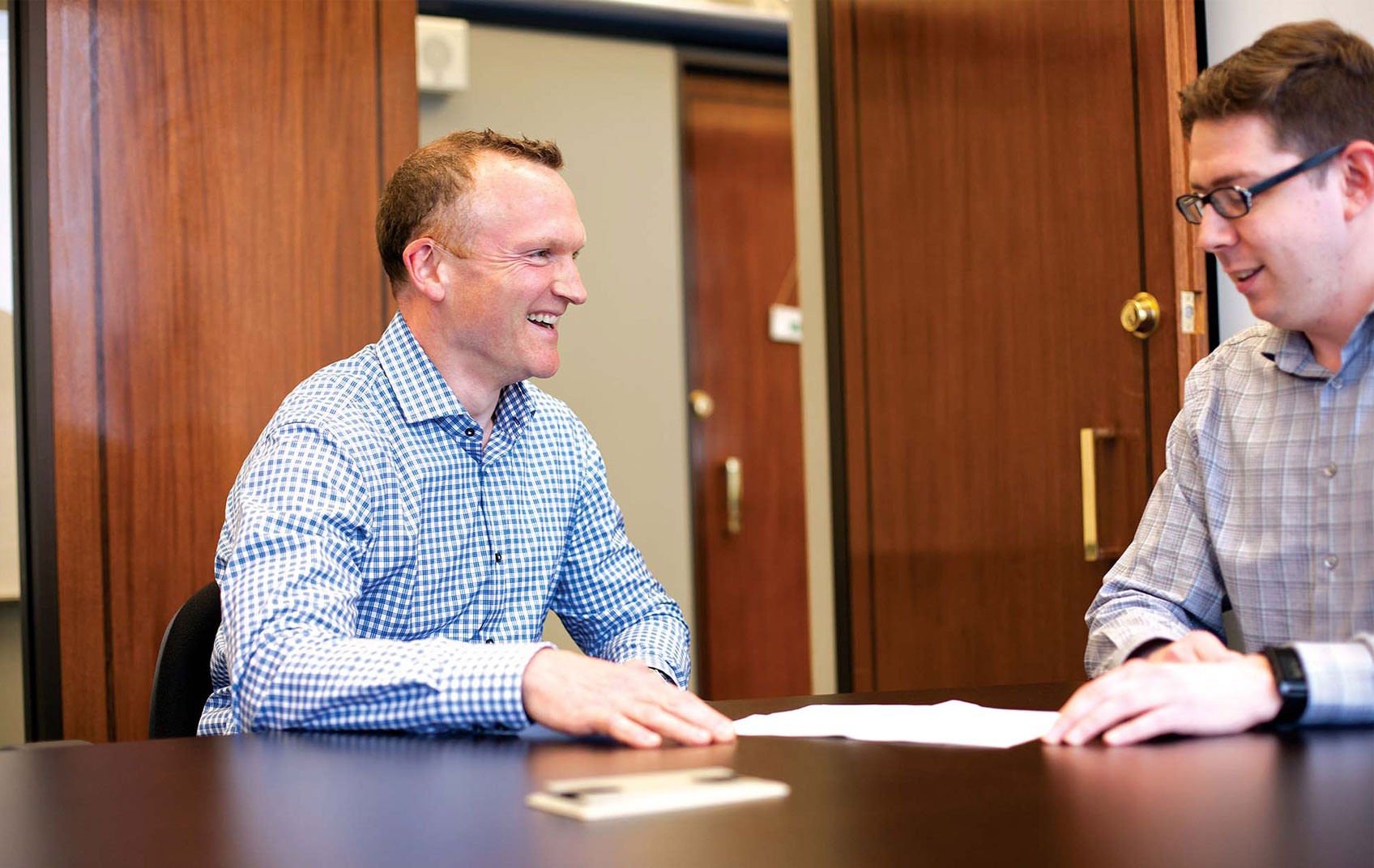 "What I like about the CIO role is that unlike other executive roles, there's no formula for what you can or should do with the technology portfolio," Banks says. "That makes it critically important to have a good handle on the business." Metrie has recently undergone a re-branding exercise and Banks says he and his team are helping the company engage end consumers, such as home owners, architects, designers and builders.
It took a university career counsellor to put Joe Drouin, EMBA '06, on his path to a career in technology. It was while he was an unfocused undergraduate at the University of Memphis that a counsellor tested him and told him he should be a systems analyst. "I had no idea what that meant, but the more I dug into it, the more I liked the idea of the intersection between business and computer technology."
Drouin took a job with tech giant EDS and then moved to Perot Systems. Eventually he joined TRW Automotive, an auto-parts company, becoming CIO in 2002. Ready for a change from the auto industry, he joined recruitment firm Kelly Systems, and then moved to real estate developer PulteGroup in 2013. Drouin has written code, connected networks and run servers, and he admits those abilities gave him credibility when he started moving up the ladder. But like his fellow CIOs, his approach became much more strategic. "I started to realize that I'm really passionate about what technology can do for a business—how we can drive and accelerate change, enable innovation and add value." Like Banks, Drouin is helping his company become more consumer-oriented, using technology to revolutionize the home building process. He is also exploring ways to reduce costs by standardizing house designs across PulteGroup's many geographies.
Rudy Wolfs, EMBA '10, is a dyed-in-the-wool techie. A self-taught developer, he started writing code for his father's contracting business when he was 14. He and some friends in high school launched a technology business and then sold it to a public company in 1999. That's when he joined startup ING DIRECT USA. Having bypassed university to run his business, Wolfs chose to do an Executive MBA while pursuing his career as CIO at ING. When ING was purchased by Capital One in 2012, he became CIO of the credit card business. Along the way he has invested in and mentored many innovative startups.
Like his colleagues, Wolfs has seen significant change in the role of IT. "The function has migrated from an order-taking and keep-the-engine running environment to being a key strategic component of the business," he says. "Customers are doing more of their activities through digital and mobile channels, so technology is essential to providing them with a great experience."
Wolfs says his role is ensuring that technology is aligned with business strategy and putting it within reach of everyone. "I've implemented new development methodologies that have democratized business access and improved the influence and impact of technology."
Like technology itself, there are more changes to come in the role of the CIO. Thomas points to a number of new challenges, from the need for tools to help employees work remotely to the issue of cybersecurity. "The explosion of data also creates increased concerns about privacy, confidentiality and security." He adds, "As IT systems become more and more pervasive and ingrained within the business, they are becoming much more complex to manage, upgrade and replace."
Faced with a dizzying array of technology choices, CIOs must become "much better orchestrators," says Bruch. "Everything has an app now, so the question becomes how you pick the right combination of solutions to deliver supportable, sustainable performance in a controlled environment." Banks agrees, noting that infrastructures are easier to manage, outsourcing is more common and many functions are moving to the Cloud. "There are endless choices," he says, "so the CIO has to be able to wade his way through the choices and decide what's going to create real value."
In the future Wolfs thinks some companies may split the CIO role into two—one focused on the tools to run the business, and one on the technology within the products and services provided by the business. Drouin adds that new roles like Chief Digital Officer are beginning to overlap with the role of the Chief Marketing Officer. "Depending on your business, the roles are blurring, and you wonder if there will continue to be a discrete role."
Banks also predicts the demise of the CIO. "Historically organizations have needed someone who understood technology to show their executives the light. But technology will not be a foreign concept to the next generation of business leaders." One thing won't change, he says. "CIOs must continue to ensure that technology pays healthy returns on investment, not only in terms of cost reduction but also in helping the enterprise reach new customers, access new markets, and grow the top line."
Photo (Russ & Doug): Nation Wong
Photo (Ian): Brett Beadle
Art Direction: Greg Salmela, Aegis