Alumni
Shelley White
|
Mar 14, 2017
From multinational corporations to dynamic small businesses, the virtual workplace is a trend that's clearly on the rise.
At Felicity PR, there are no walls. There are no doors, ceilings or floors either, for that matter.
Five years ago, Amy Laski, HBA '01 (pictured above), founded her communications and public relations company, determined to do things a little differently. She had been working for a large corporation in a traditional, "face time"-oriented culture, but realized it wasn't suiting the way she wanted to work or the kind of parent she wanted to be. Laski wanted more flexibility and autonomy, but she also knew she didn't want to be a freelancer.
"I didn't think that being a solo practitioner would offer the best value for clients and I love working with a team. So one thing led to another and I started this virtual agency model," says Laski, President of Felicity PR. "We say our advantage is our brains, not bricks."
While Laski herself is based in Toronto, Felicity PR doesn't have any physical headquarters. Her 30-or-so team members are dispersed geographically, working together virtually through email, phone, video conference, and collaborative platforms like Google Docs and Google Sheets. "We also have what we call our water cooler, our team's private, online, casual meeting place, where we share articles and industry happenings."
Laski says the virtual model allows her to recruit the best talent, regardless of where they live, and also attract people who have other commitments or career pursuits that are important to them. One team member lives on a farm that's a six-hour drive from Vancouver. Another is based in Ottawa, balancing work with childcare responsibilities.
The virtual model also cuts down on inefficiencies. "I think interaction has to be more intentional and that's really good, because you're trying to be more productive and make the most of your time."
From multinational corporations to dynamic small businesses like Laski's, telecommuting and working virtually has become the mode of choice for many employers. Facilitated by the advent of cloud-based collaboration tools, teleconferencing and the ubiquity of mobile, the virtual workplace is a trend that's clearly on the rise. But will we all soon be working office-free?
Damir Kostic, MSc '12, is a Senior Managing Consultant at IBM. He leads a team of consultants who work with organizations around the world to help them gain competitive advantage through the use of cloud HR (human resources) technology.
Though he's technically based in Vancouver, Kostic says he travels a lot for his job, and most of his engagements have a virtual component to them. The same goes for the rest of his team.
"We have consultants who spend 80 per cent of their time working directly from their home offices. Not only are they using video and telephone conferences to dial in, but they're able to access all of the company's databases and servers directly from their home," he says.
"I think this is a major benefit of cloud technology – it's challenged the conventional way we think of employment and it's allowing people to have a much better work/life balance. When we're recruiting for people these days, one of the top questions we get is 'How much remote work can I do?'"
A huge part of the benefit of virtual teams is efficiency, says Kostic, particularly because he deals with global, multinational enterprises. "Setting up a meeting with 20 people from all over the world can happen literally in an hour, because everybody can get on a phone with a WebEx conference."
In the case of human resources, cloud-based HR technology is also changing the way managers interact with employees, says Kostic. "I could be sitting at the airport in Stockholm and I could be setting the career plan for my employee who is based in Montreal, doing their performance evaluation, providing feedback," he says. Kostic admits that it's become second nature for IBM employees to work virtually, because it's in the company's culture: "It's so embedded in our DNA." Other industries where virtual teamwork doesn't come so naturally might find it more of a challenge, he says.
"If you're not able to trust others and use that network to your advantage, that's where you struggle in a virtual environment," says Kostic.
The biggest challenge he faces with working virtually is dealing with time zones. "You can never please everybody, and it's always the joke: 'I have to schedule a global meeting, who do I want to tick off?'"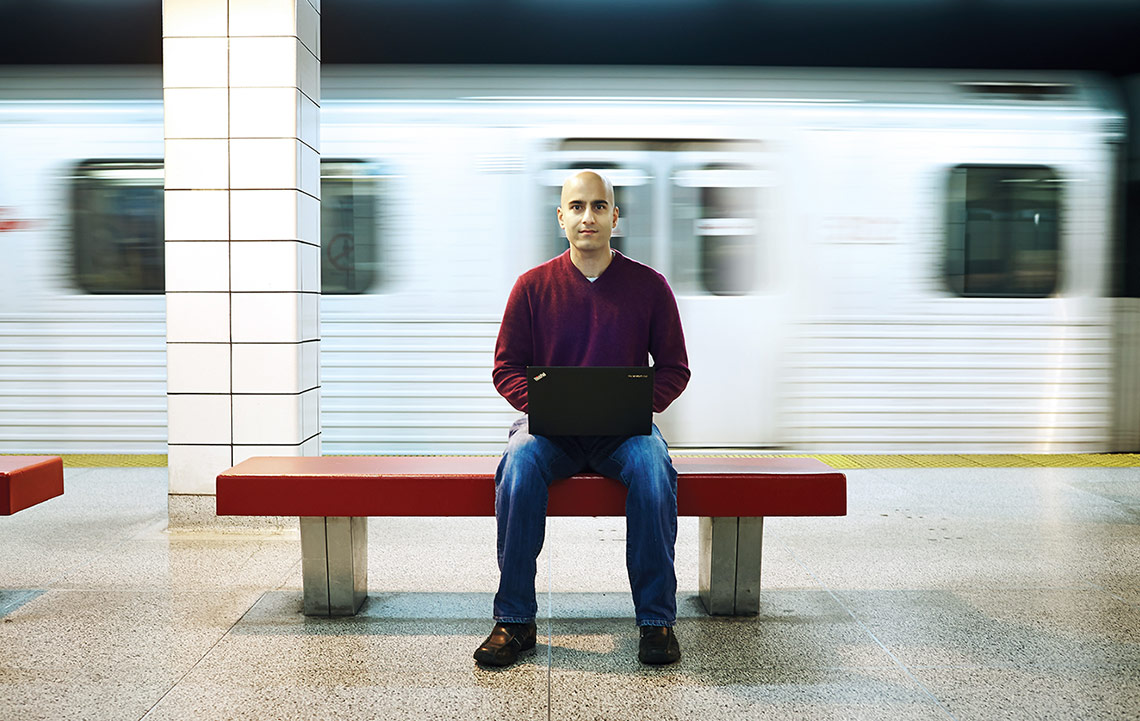 Across our company, how you work was so much more predictive of the effectiveness of the team than where you're located." - Anuj Chandarana, HBA '03, MBA '08
As People Analytics Manager at Google in Toronto, Anuj Chandarana, HBA '03, MBA '08 (pictured above), and his team have studied what makes teams effective at Google. They use the latest academic and scientific research in order to "maximize the health, happiness and productivity" of Google employees. He says that the research they've compiled has shown that colocation of teammates doesn't seem to be significantly connected to team effectiveness at Google.
"One of the hypotheses that we tested was that colocation would matter, that the more you are close in visible proximity to your teams, the better your team would perform. And we found that hypothesis not to be true," says Chandarana.
One factor that does affect team effectiveness is "psychological safety," or feeling comfortable taking risks, making mistakes, or offering new ideas. Another factor is dependability – members reliably completing quality work on time. Structure and clarity is also important, so that members know job expectations.
What didn't seem to matter? Being in the same room as your workmates.
"Across our company, across levels, across people in different locations, how you work was so much more predictive of the effectiveness of the team than where you're located," says Chandarana. "We found several virtual teams in our data set that were able to establish healthy team dynamics and the location of teammates did not deter them in any way. What we found supports lots of external research that has demonstrated the importance of healthy team dynamics."
Derrick Neufeld, PhD '97, is an Associate Professor of Information Systems at the Ivey Business School. His research examines how the adoption of information technology impacts individual and organizational outcomes, such as the effectiveness of virtual teams and qualities of remote leaders.
In Neufeld's view, working virtually can have positive impact on a team, but it can also create challenges. "Technology always has an effect, and sometimes those effects are profoundly positive and sometimes those effects have to be carefully managed or they could potentially become very negative," he says. Neufeld points to a 2010 study he co-authored looking at why some virtual teams "gel" and why some don't. The study, entitled Understanding Sustained Participation in Open Source Software Projects, studied a real virtual team in an open source software (OSS) community. (OSS is software where the source code is made available for anyone to study or change, and OSS communities are made up of software developers from diverse geographical areas working together to learn from each other and solve problems.)
"What we found was that there really was a fairly small number of developers that were highly committed to this team," says Neufeld. "There were many, many more – maybe a couple of hundred additional people that potentially could have become committed members, but they didn't. They fell off the face of the earth; and so we dug in and looked at all of their logs and their communications over several years to try to understand why. Why did some stay, and others leave?"
Neufeld says they found that two factors were critical – identity construction and situated learning.
"When I feel like I'm learning something, I'm growing and developing as an individual developer on this team, and my identity is being formed within the larger community. So, not only am I individually learning something, but if you and I are in a team together I sense that you're getting to know me and respect me," he explains.
In other words, members that felt their work was being recognized and acknowledged as good would become more involved in the group. But members who didn't get that recognition would drop off, says Neufeld.
"Some people started to become quite engaged and involved, and then someone along the way would say something like, 'You've blown it, this [code] is garbage.' One or two of those comments and they were gone, never to be heard from again."
The study provides a clue as to how managers can ensure a virtual team stays engaged, says Neufeld. It may be the case that managers have to work harder to ensure their team is feeling acknowledged and respected because they aren't in the office with them.
"We have to make sure, as managers, that we're providing developmental challenges and opportunities to our people at the same time that we're specifically recognizing and acknowledging their good work along the way," he says.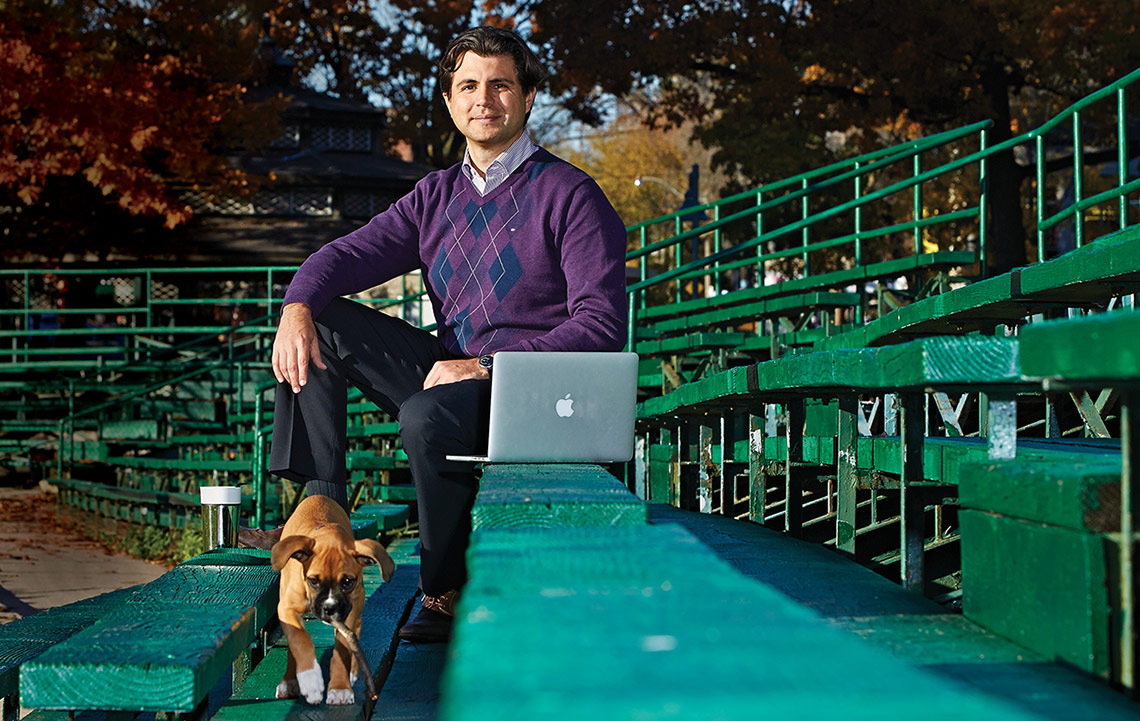 I think technology has the ability to do two things – it can alienate or it could bring you closer together." - Dirk Propfe, HBA '06
Virtual teamwork is a regular occurrence for Dirk Propfe, HBA '06 (pictured above). He's the CEO at ET Group, a company that creates harmony between work, workplace, and technology. ET Group weaves different collaboration technologies into the workplace and puts a strong emphasis on user adoption to accelerate communication and innovation in corporations. Dirk is also the Founder of Unleash Network, which helps accelerate organizational evolution by offering learning labs and communities of practice for business leaders and organizations.
"With ET, we've got at least 50 per cent of folks working from home on a daily basis. Unleash Network is a distributed team, where there's people in Vancouver, in London, in Germany," says Propfe. He says that collaboration tools like Spark and Slack, and video conferencing tools like Zoom, have created "wonderful" methods of virtual communication. But it's important to use those tools effectively, he notes.
"I think technology has the ability to do two things – it can alienate or it could bring you closer together," says Propfe. "If you already have a team that collaborates really well and you give them the tools, it'll be incredible. Technology is just an amplifier and enabler that could make us better or make us worse."
Team members need to be more willing to listen and be slow to judge, because virtual communication can leave things more open to interpretation (or misinterpretation), says Propfe. It's also a good idea to establish a clear structure in terms of how the team will be working with these technologies, he adds.
"There needs to be shared agreements on how you're going to be working together, and knowing the different preferences of communication is important."
Ismat Aziz, EMBA '99, Senior Vice President of Human Resources for Sprint (based in Overland Park, Kansas), says that her organization has gone beyond the "working from home" concept to what they feel is the next evolution in working environments.
"For some companies, working from home is an evolution they are working to — but for us, we left that behind as a key driver for employee experience a long time ago," she says. "We are looking at things very differently in order to align with what makes our employees happy and what works for the organization."
Aziz says that it's not about whether someone works remotely or in the office, it's about what works best for that particular employee. Demographics play a role, she says, because different types of employees might be looking for different workplace experiences.
"There is a contingent in our workforce that is really motivated if they have the opportunity to work remotely. There's another pretty substantive subset of the workforce that wants to come in and work in close proximity with their teams, and then there is a contingent that wants a bit of both."
The future of work will be a mix of different styles, rather than just a move towards virtual teams, says Aziz. The key is to be an agile, nimble workplace, she says, so that no matter how someone is working, they are doing so with purpose and intention.
"We are building an agile employee experience model and we will continue to differentiate and modify our strategy as our workforce continues to evolve," says Aziz. "We also treat our employees as our partners, so their needs and satisfaction are paramount to building a highly engaged workforce that will continue to recommend Sprint as a place to work."
Dirk Propfe of ET Group and Unleash Network agrees that the future of the workplace will continue to be a combination of the physical and virtual realms because there are unique benefits to face-to-face communication.
"With the connection between two people in the real-life setting, you get the body language, the smell, the touch, the posture, so many things. It's a beautiful thing when you have that physical proximity," he says. "All of these things are important to create bond, connection, and trust. But what we have now with the virtual realm is really the ability to expand that reach," he says.
"It's very much about showing up as individuals and being willing to be vulnerable and open and collaborative – whether you're in the same room or not."
All Photos: Nation Wong
Art Direction: Greg Salmela, Aegis